Dave Harte writes: A short trip to Ireland allowed me to participate in the inaugural running of the North East Galway 10k starting from the small village of Moylough.
I was particularly pleased to be running this as this is 'my' bit of Ireland, a short distance from where I'd spent numerous family holidays and from where my mother and father both grew up. My mother was here to support me for the run.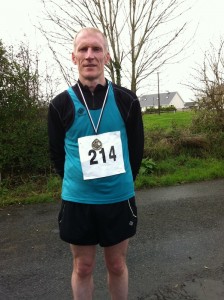 I'd say there was a field of about 220 who set off to run past a lot of well, fields. It was a gently undulating run with a mixed field of club runners (there's plenty in the wider area with a big turnout from Athenry AC) and fun runners (it was also advertised as a walk). A downpour and strong winds in the first 15 minutes slowed the pace but overall I was pleased to be under 42 minutes given my appalling form recently (41:52 over 6.22 miles on my watch, no official results yet).
The organisation was spot on, in fact we started just as the church bells rang out ("say your prayers" said the witty starter). A nice medal and water/fruit for all finishers topped off a great day.