Andy Hall Reports: Following in the footsteps of a few other Bournville Harriers, New York City Marathon had been on my bucket list for sometime. I remember catching Lesley Procter on the back of a long run a few years ago who had also done NYC marathon and she said I may qualify for a good for age place?
Dave Mountford then completed it last year and did a great race report (no pressure) so my journey started late last year and I applied for a place in the marathon under the good for age guidelines. What came, as a wish rapidly became reality when my credit card was debited 5 days after entry despite being told I would not hear for several weeks!
It had been a difficult year for running which followed one of my best years of running in nearly 10 years. This was going to be a real challenge. The main reason was I was juggling renovating our house, adding a garage and a loft conversion which involved the roof coming off the house..
All of this had to be completed for around July/ August to allow me a 16-week training programme. Most of my training was fitted in around work and house renovations.. it actually kept my fitness in top condition. What I didn't realise at the time was that I was slowly burning out.
I used Birmingham marathon as a training run and tried out a 6:30 pace for as long as I could up to 20 mile with a plan to stop and have a 15 minute break before continuing. This showed me that I needed to rest before New York as after 16 mile cracks started to show..
I spent the next couple of weeks resting and the building work not moving. My daughter would have to wait for her new bedroom.
We arrived at NYC on the Friday evening UK time. The weather was great and staying alcohol free for the week and resting was paying off, as I felt great! Still being on UK time I was up at 3am on the Saturday morning so went out for a cheeky 5km run! I collected my race number on the Saturday which was followed by sight seeing and a trip to the Chrysler and Rockefellar building. Pasta party in Central Park on Saturday evening was great they even gave free beer of which I couldn't drink but someone must have had a word with them as I came away with 3 beers!
Race day
It definitely paid off being on UK time as I went to bed at 8pm and was up at 3am (12pm and 7am gmt) I took some great advice from Dave Mountford to get the coach early and wrap up and as a result had several layers of clothing. The temperature was around 70 degrees and I didn't really need the layers but it made sure I was toasty!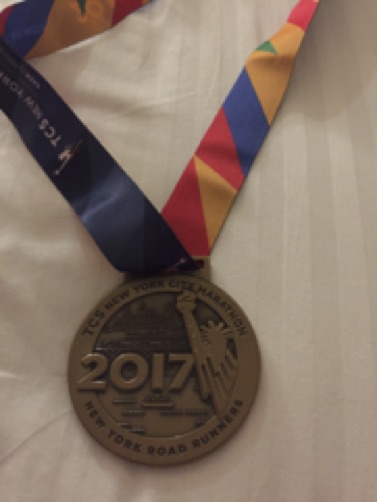 As I made my way to Manhattan library at stupid o'clock I was surrounded by 1000's of other runners all wrapped up in either random clothes, bin bags or running attire. As I got closer to the library the queues were enormous and it hit me how big this marathon really was! We had to queue 4 deep around a block and a half. The organisation was military! The security would constantly ask to see your race bib, check you had the correct clear bag for your contents and shuffle up! The coaches were all lined up and they were filling them 5 or 6 at a time. By this point I was doing really well as my coach set off at 5:45am and I wasn't booked on until 6am!
By 6:45 we were at Staten Island and had been dropped off at Fort Wadsworth. Again the organisation was second to none, all the food and refreshments were provided free of charge. I didn't take any dunkin doughnuts on before the race and settled for my Quaker Oats from home that had travelled with me!
I chatted to a few people but lots of people were in race mode and didn't seem so chatty. One guy was from Texas and had trained in sweltering heat, which made me feel grateful. Another recommended a good Irish bar for after the race!
The start
From the staging area we were shuffled into the corrals for my start time, which I was in the first pen "A" no pressure. We were packed in to breaking point before they opened the door to lead out to the start and this resulted in a trot up to the Verrazano Bridge. The regulars all jumped up on the side of the bridge and sat down so to stay off the cold floor. Now I don't know if it was the pen I was in or the Americans but I was in good company. We had constantly been told to not urinate on the bridge as this would result in disqualification. For this most people had a bottle. Those that no me know, well lets just say I fitted in well. Those that didn't have a bottle didn't seem to care as when the elite tape was removed every one shuffled up and it ended up as a free for all, ladies included!
The start included the American national anthem and then 2 cannon blasts to announce the start. We had earlier experienced the cannon blast for the wheel chairs, which terrified most as you could feel the blast on your face and ringing in your ears. At our start most as a consequence put their fingers in their ears not on there watches!!
We then started to the sounds of Frank Sinatra – New York New York! It was a perfect start to a race and the corral I was in set a near perfect pace. I earlier mentioned that at Birmingham I hadn't realized I was burning myself out. This couldn't have been further from my mind at this point. Quite early on ( 10-Mile) I realized it wasn't going to plan and my 6.30 pace was falling faster than a cannon ball.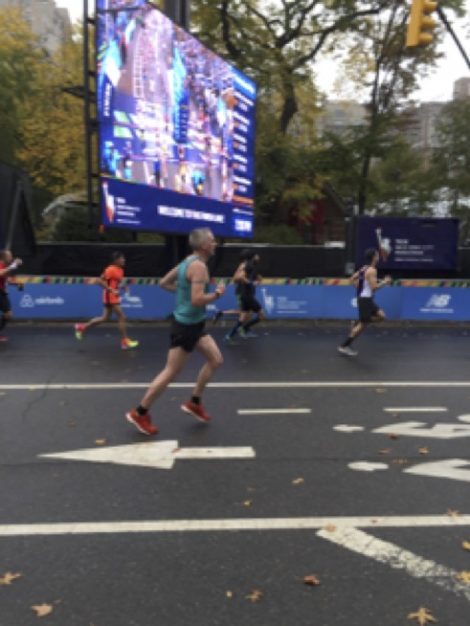 Having my BVH vest helped. My wife had spoken to Steve Doswell about getting my name added to it along with GB. This helped, thanks Steve. Americans pronounce Andy as Andeee like Toy story and all I kept hearing was " Andeee, you got this!" time and time again. The banner boards were good as well. Lots said you should be Mayor as your running this city!
Every street had either a DJ or brass band, I heard more than one band playing the rocky theme and Survivor – Eye of the Tiger!
Around 15 mile you get some shelter running within the Queensboro Bridge. I used this to compose myself as we had been told about the noise from the crowds being awesome. I though I could save some energy so not to disappoint! The atmosphere at this point was spine tingling. I really felt like walking at this point but there was no way that was going to happen. I was blown away by the dj's some of which were freestyling!
By 20 mile I was walking the water stations to ensure I took on enough fluids and then starting my run shortly after. It had also started raining at this point only a drizzle but it made a nice change and made the run more bearable. At around 22 mile I approached Central Park and the sight of some trees and greenery was inspiring after 20 plus miles of concrete. I had a spring in my step albeit a small one but it got me to the finish.
My time was 3:17:53. That didn't include the mile and a half walk to get to the meet and greet after the finish line! I was meeting my wife at "A-H" which was the furthest point from the exit so probably another half a mile! I collected my medal, foil poncho, goody bag and then fleece-lined poncho. It was the longest post marathon walk I have ever done!
Would I recommend? Definitely, it's a once in a lifetime opportunity, my race didn't go to plan but overall I was happy with my time bearing in mind my training had been scattered. Really loved the support from the club on Social Media as well thanks you all that posted!