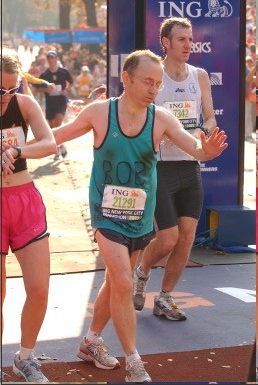 Bob Hockenhull writes: Five years ago, I didn't realise people like me could enter the New York Marathon. But a chance remark at a wedding set me on a path that brought me to the start line on a mist shrouded Staten Island. I'd already completed two London Marathons in 2002 and 2003 but now I was in the city that had first inspired me to train for the distance in the first place.
In London I was spoilt. Having a friend who lived in Blackheath had meant a five minute stroll to the start. No such luxury in the Big Apple. After an early evening at the official pasta party where they'd fired you up with carbohydrate and cabaret, it was a 5AM start to ensure a smooth passage on the big day. Like the majority of competitors, I caught the bus at the city's Public Library. A traffic jam on the Verrazano Narrows bridge slowed down the journey to the start and left much less time to get nervous once we arrived.
At 10 past 10 the cannon fired and thirty seven thousand people began crossing the bridge back to Brooklyn. Despite the crowds I was able to make better progress than the bus had over to Staten Island. By running on a raised platform at the middle of the bridge, I was able to get moving faster than I'd anticipated. Wearing my Bournville Harriers shirt raised a couple of encouraging comments from fellow Brits who recognised the Birmingham suburb.
The New York marathon takes in all five boroughs. Once over the bridge it was into Brooklyn where there were already heaps of enthusiastic well-wishers cheering on the field. They were joined by scores of musicians playing everything from rock and roll to hip hop, ensuring a real party atmosphere. This year, the weather was really warm, similar to a pleasant Spring Day back in the UK. But dutiful consumption of water and Gatorade at every stop meant I was able to keep well hydrated.
Everything went pretty smoothly and I quickly settled into running eight minute miles or just over. At mile 15 you cross the Queensboro' Bridge into Manhattan. It's a bit of a climb, in fact most of the hills are in the second half of the race. But the sheer excitement of crossing into some of the most famous and spectacular square miles on earth really does make this one
of the best moments on the course.
There then follows a straight run up towards the Bronx along First Avenue. Looking ahead you can see a sea of people stretching for miles into the distance. It was here that I set eyes on my friend Matthew who'd been at a different start point on the course. We exchanged pleasantries but didn't run together because we were keen to do our own thing. All those people and I still managed to bump into him. I think he was rather shocked, he said I looked fresh as a daisy but I wasn't necessarily feeling like that!
I guess I must have hit the wall. I don't remember too much about those last few miles as you start heading down Fifth towards Central Park. But I was still able to keep going at the same pace, even though it was getting more painful. Some runners had stopped because of the heat and pain …fatal !
I was running what I thought was the final mile of the race when I spotted my friend Matthew again ! It turned out we hadn't passed Mile 25 yet, as I'd thought. That caused a few expletives ! I'm sure seeing Matthew helped keep me going in the final stages. I so wanted to slow down. He was quicker up the hills than me but I was faster on the flat. In the end we decided to finish together and that's just what we did. A fitting end to a great race !
I finished in 3:35:56, nearly ten minutes quicker than my fastest London time and on a tougher course ! I remember telling Matthew to shoot me if I ever suggested doing another marathon as we crossed the line. But memories of the pain subside and maybe I could break 3.30 on a faster course! I was sufficiently fit to have a few dances at the Official Marathon party that evening so it can't have been that bad ! Congratulations also to Andy Tipper, who finished in 5:06:50.