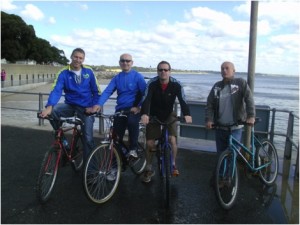 James Gittins reports from the New Forest: What a great weekend, Primo, Simon, James headed off down to Christchurch area Friday to link up with Pete who is currently living in the area.
An eventful Friday night took place, with a visit to a charity cabaret party that Pete had organised for us. It was certainly a new experience for us all, with Drag queens singing Abba and Tina Turner alike. It didn't help that we sat there drinking pints of water all night as well, well some of us anyway.
Saturday was supposed to be a relaxing day pre marathon, but with the sun shining we decided to go biking up the bay, which was superb, taking in the spectacular views of the coastal line and the Isle of Wight.
Saturday night, pre marathon, Primo cooked one of his Italian specialities which was fantastic, plus we all got a cooking lesson from him as well.
Sunday morning, Marathon day, we were all up early and ready to go. Primo was to run the half which was a great achievement as he had only been back running for three weeks after breaking his ankle. The rest of us were doing the marathon.
The organisation for parking pre race wasn't ideal as the main field was full and they directed us into a nearby church car park with about 20 spaces for about 50 cars, plus there was a church service on as well!
However, we all made the start on time, with Primo's half taking place at 9.30am and ours at 10.00am. There were approx 600 runners in the marathon and about the same for the half.
Both the half and full courses entered the new forest within the first couple of miles and remained in the forest area for most of the race, most spectacular views and scenery with the ponies and horses roaming about. There were a few undulations on route with a cheeky one at 18 miles!
As for my race, I had set my goal to run 8.45 minute miles, which I pretty much achieved apart from two miles (22nd and 23rd). Amazingly my second fastest mile was my last one with a 8.18 min/mile.
I was delighted with my chip time 3:47:36, a personal best knocking off 4 mins from my previous best in Edinburgh last year.
Congratulations to Simon who ran his second marathon of the year in a very respectable time of 4:18:07 and to Pete who did 4:28:49.
Primo also deserves a big mention as he managed to run the half in 2:11:03 which is a great achievement as he has only been running three weeks since his broken ankle.
Good looking medal and reasonable goody bags, well organised finish.
We all had a great weekend, a race well worth trying out if you are looking for one with spectacular scenery and a low number of competitors.
Thanks to Pete for putting us up, hope we didn't leave too much mess!
Marathon results:
| | | | | | | | |
| --- | --- | --- | --- | --- | --- | --- | --- |
| Gun Pos | GunTime | Surname | Forename | Gender | Cat | Chip Pos | Chip Time |
| 150 | 03:48:01 | Gittins | James | M | 40 | 148 | 03:47:36 |
| 305 | 04:18:32 | Newman | Simon | M | | 305 | 04:18:07 |
| 350 | 04:29:14 | Barton | Peter | M | 60 | 351 | 04:28:49 |
Half Marathon results:
| | | | | | | | |
| --- | --- | --- | --- | --- | --- | --- | --- |
| Gun Pos | GunTime | Surname | Forename | Gender | Cat | Chip Pos | Chip Time |
| 1311 | 02:13:05 | Zavoli | Primo | M | 50 | 1298 | 02:11:03 |