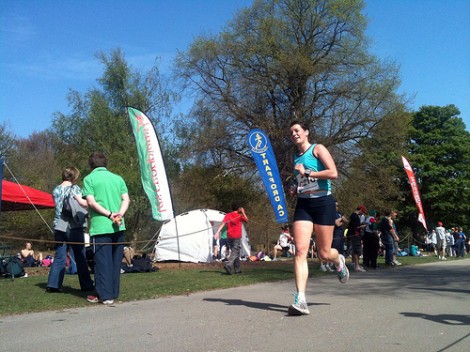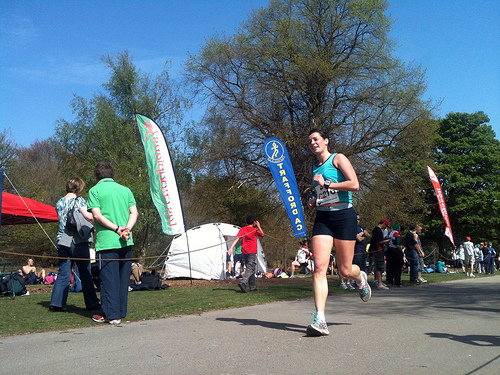 Rachel Ward reports: The end of the road relays season for 2010/2011 culminated in not just 1 but 3 new club records (based on comparison of A-A, B-B and C-C) for our ladies teams.
Saturday was a beautiful day that was was enjoyed by all at Sutton Park, with the icing on the cake being the quality of running from the BVH ladies.
Firstly, some statistics:
For the ladies, there were 65 teams that started, only 46 clubs finished complete teams. Most of the clubs only completed 1 team, Charnwood AC and Birchfield Harriers had 2 teams complete, Notts AC and ourselves completed 3. I think that this in itself speaks volumes for the enthusiasm and commitment that is apparent amongst the ladies team, carrying on from a fantastic XC season.
I wont comment on all of the ladies as you would be reading for a while, but to pick out some names…
Our 'A' Team came 18th in a fantastic 1:55:56, this is a new club record for the ladies 6 stage road relays, breaking the previous one set in April 2008 by 3 minutes (1:58:52 placed 29th). The team was led by Mel James returning to represent the club in team competition and being our fastest runner of the day in 17:47. Caroline proved her commitment by running whilst not being 100% and still produced a great run in 19:18. Susanne saw her second time out for the road relays, she is still fairly new to the club and has represented us at XC at couple of times. Her time of 19:24 indicates some serious potential for us.
The 'B' team came 36th in a total of 2:10:06, led off by Laura on first leg with 20:56, seeing a significant improvement compared to this time last year. Becky and Sarah, even with London in sights for next week, ran with usual all out commitment both finishing in 20:56. Our B team also broke the club record from last years B team by 7 minutes (2:17:19 placed 44th).
The 'C' team finished 45th, in a time of 2:22:13 led by Michaela who knocked a minute off her time from last month. Kathryn D who had her second run representing BVH also ran faster, while newcomer to the relays Kathryn H put in a fantastic first performance of 19: 53 – definitely someone to watch out for in the future! This years C team also ran faster than previous C teams by 13 minutes (2:35:19).
All of the ladies put in great performances, and reiterating Sarah's XC report from the AGM, the proof that the XC training has paid off for the many of the team. With a summer of short races coming up I know my job is going to be incredibly hard come September when there will be so many ladies fighting to get into our 'A' team.
However, I do want to publish the results of our closest rivals from Saturday, just so you can see how close the teams were to improving their position, not just by 1 place but in some cases 3 or 4.
Place 14: Westbury Harriers 1:55:15
Place 15: Sale Harriers: 1:55:44
Place 16: Winchester 1:55:47
Place 17: Birchfield 1:55:49
Place 18: BVH 1:55:56
Place 35: Rossendale Harriers 2:09:43
Place 36: BVH 2:10:06
Place 44: Beverley 2:22:11
Place 45: BVH 2:22:13

18th Bournville Harriers 'A' 1:55:56
1 Melanie James (26) 17:47
2 Marianne Hensman (33) 20:04
3 Sara Roberts (35) 20:18
4 Linda Howell (30) 19:05
5 C Harlan Marks (29) 19:18
6 Susanne Koburger (19) 19:24
36th Bournville Harriers 'B' 2:10:06
1 Laura Leslie (53) 20:55
2 Aine Gallagher (53) 22:50
3 J Delahaye Slater (53) 22:06
4 Becky Hampson (48) 20:56
5 Sarah Rock (41) 20:56
6 Elizabeth Bryans (37) 22:23
46th Bournville Harriers 'C' 2:22:13
1 Michaela Thompson (65) 23:43
2 Rachael Ward (59) 24:20
3 Kathryn Doudican (59) 23:50
4 Kathryn Holliday (52) 19:53
5 Fiona Heath Brown (48) 22:34
6 Lesley Pymm (47) 27:53