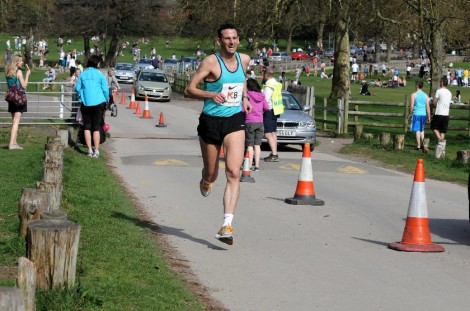 Jon Grix reports: The lack of records could not sour what was a great day at Sutton Park last Saturday.
Uncharacteristically warm April weather may not have been to everyone's liking, but it added a carnival atmosphere to this, one of the best events of the athletics calendar, where we have the chance to witness real 'elite' runners.
The day was made even better by the camaraderie among the men's and women's team. The much maligned men's team must have been learning from the ladies, because I spent a very enjoyable day among helpful team mates ready to do what ever was necessary to ensure the team got around.
Thanks to the ladies for their excellent support (and cakes). Despite having lost our key strikers, Deano and Rob, to illness, both turned up to cheer us on and, in the case of the latter, to help out significantly with organisation. Sprogg (Mark Sprawson) deserves praise for ensuring runners had their correct numbers and generally making sure everything ran smoothly on the day. Joe and Jess offered support for the entire 12 stages – over 5 hours, remarkable endurance given that Joe is actually a sprinter.
On the pitch a fair few had to step into the breech – Gareth, my successor in matters of relays, admirably took the challenge of lining up with the best teams and athletes in the country on leg 1. He did not disappoint, posting one of only a few PBs in the team with an excellent 30.03. An indication of the level of competition is his position (53rd) despite running close to 5.30 per mile for the 5.4 mile course.
I was happy with my 16.16 effort, especially as the wind was much stronger from the Jamboree than it was at the Midland's where I ran 1 second faster. Gary Blackman, a former elite (i.e. proper) athlete, tackled the tough long leg despite not having the training behind him. If Gary can 'manage' his dodgy Achilles and plug away, I think some regulars in the XC first team ought to start worrying.
Next up was Stuart 'fry-up' Pearson, whose Dad is a regular at our events and a very helpful one at that. Due to Andy Clayton being stuck on the M5, Stuart was asked to swap short leg positions at very short notice by quick thinking Sprogg and Gareth. Stuart had cut down on the beer for this race but stocked up on the fried breakfast on the morning of the event – it seems to work, as he ran just a second shy of his Midland's time in arguably tougher conditions – the weather for the first half of the race was warm.
Sean Rose put in a solid 31 mins – although he was not too happy with his effort. He is in the tapering phase for London next week and traditionally this period can leave you feeling a little 'flat'. Steve Cumley again produced a fine performance a couple of seconds outside his Midland's time – on this form he ought to radically re-write his 5K and 10K PBs this year.
Dave Harte – another London participant – remained flexibly on hand at a time when we didn't know if Deano or Rob would run. Dave put in a useful 33.38, showing that his training is going well. He handed on to our late arrival Andy Clayton, who'd come direct from a traffic jam after a week in which he'd written his car off in an accident. Given these factors I think Andy ought to be satisfied with his 17.28 – of course, he wasn't, but that shows the character of the man.
Simeon also showed himself to be disappointed with his 34.01 – I like the fact that Simeon was gutted because it shows me he wants to do better and that, dear reader, is what it is all about. Matt Slater, mixing it with the leaders momentarily on the home straight, is another who was unhappy about his 19.08 effort, despite this not being much slower than his Midland's run.
What I like about Matt – apart from the fact that he looks about 25 but is nearer 40 – is that he had no problems moving up to the A team and tried to do his best. As the club gets (marginally) better, everyone needs to step up if they want to get in the first teams.
Danny Wilson continued his fine form with a solid 34.12 out on stage 11 with Mike Berry, nursing a dodgy calf, and being drafted in at the last minute taking some 12 secs off his Midland time. A lesser person would not have dragged two young daughters along to the event to complete our team – thanks Mike, that's the sort of dedication we need if we are to stay up in the first division of the cross country league.
To sum up, although no records were broken and we were at the back of (a very good) field, the dissatisfaction many expressed with their performances indicates a readiness to work harder and improve. Remember the key secret ingredient to distance running – there isn't one. Those that run fastest are generally those that run the most or those that do the right training. Well done to the whole team.
Corrected Results:
Men
54th Bournville Harriers 5:03:56
1 Gareth Cadd (53) 30:03
2 Jonathan Grix (48) 16:16
3 Gary Blackman (55) 33:33
4 Stuart Pearson (56) 18:18
5 Sean Rose (54) 31:00
6 Steve Cumley (53) 17:37
7 David Harte (56) 33:38
8 Andrew Clayton (54) 17:28
9 Simeon Paine (55) 34:01
10 Matthew Slater (55) 19:08
11 Daniel Wilson (55) 34:12
12 Mike Berry (55) 18:42