From Jude Glynn: Despite several of our fastest athletes being injured we still fielded three complete teams for the relays in Berry Park. Conditions were good -although there was at least a bit of mud to keep Lesley happy -on a course which is a mix of parkland and wooded areas with some significant undulations!
Laura Gale and Rhian Littlewood ran first legs for the ladies.Laura's huge improvement in form and fitness was reflected in her shaving nearly two and a half minutes off last year's time and Rhian had a very impressive cross country debut.
They were followed by Emily Holden and Claire Butler, who both ran really well. It was also Claire's first venture into cross country and the first outing for her leopard skin spikes!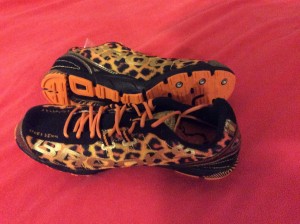 After finishing I found I was in a good position to cheer Chris Collins on , running a great first leg for the men's team . Chris was followed by Iain Jones, Ollie Kirkland and Kevin Peace who all ran well and certainly seemed to be putting in maximum effort.
The ladies A team finished 69th(3x3k)
Laura Gale 12:02:70
Emily Holden 13:09:40
Jude Glynn 14:26:40
The B team finished 95th
Rhian Littlewood 13:55:90
Claire Butler. 14:36:45
Lesley Pymm 17:03:40
The men finished 120th (4x5k)
Chris Collins 17:37:35
Iain Jones 18:45:60
Ollie Kirkland 18:54:75
Kevin Peace 25:29:35
Well done and thank you to all who took part!