Nicola Cumley reports: Always up for a new challenge thanks to Sarah a Bournville ladies team entered the National cross country relays at Berry Hill park in Mansfield. With only three spots in the team, places were hard fought for, a serious game of paper, scissors, stone secured the last place in the team.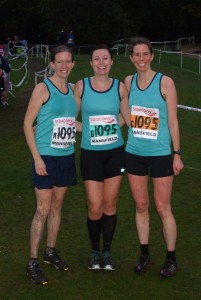 Arriving at the park we were greeted with perfect cross country conditions for the first event of the season. Driving rain and mud! Questioning how much we liked running cross country and struggling with first race of the season disorganisation (no bin bags, no towels, no spare socks – next weekend the motto is be prepared) Thankfully the rain stopped for our race which was good for moral.
Linda was first off. Positioned herself and her elbows on the front row and gave us a great start, putting in a strong performance amongst the best of English runners (and the youngest looking senior women I have ever seen!) Sarah took over and had a fantastic run, watch this one as she has found her short distance speed, I set off third. Unfortunately as the course was short I was not able to get round to cheer the others on, and at this point we had not seen any of the men.
I thoroughly enjoyed the run, there was great support from the men (who seemed to be appearing out of no where) and the men's groupies (especial thanks to Stuarts Dad and Daughter and Steve who were just at the point that Linda had pointed out during our warm up was going to be tough and they provided the necessary boost). The best bit was having Sarah and Linda cheering me through to the end, a definite bonus to going third.
The course had been previously described to me as like a roller coaster which I would say I agreed with, the undulations through the woods meant that you felt you could almost roll down the hills which gave enough momentum to get back up. The other great thing was being a short course you got all the fun of a cross country race without the painful last lap.
It was a great experience being part of the team. Thank you to Sarah for organising it and transporting us in luxury. How about next year we have a B, C, D and E team, and some sun!
Results:
Position: 60th
Time: 0:39:03.00
Leg 1: 0:12:13.80 L Howell
Leg 2: 0:13:36.55 S Rock
Leg 3: 0:13:12.65 N Cumley
Full results (PDF).