Lesley Pymm reports: It was a lot milder than it sometimes is as I warmed up and wondered what on earth to wear.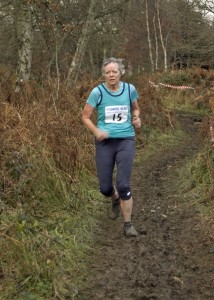 Mortimer Forest is one of those events where I know I'm going to be out a long time, and know that I am going to be climbing – so it could get quite cold out there. Last time I did it there were sections that were treacherous because of ice.
I did not think that was going to be a problem this year. We started off and ran over the playing fields of Moor Park School near Ludlow, the bogginess there (not up to Burbage standards) gave some indication of what was to come over the next 10 miles or so.
There is a little ditch to cross before we hit the forest and some people were slipping over already as they did not have enough grip. We ran into the forest and down into the Mary Knoll Valley. Once in the valley we crossed the stream twice, the descent to the second stream crossing was pretty bad and I took that very easily.
After that it is the first really big climb. Unfortunately I was stuck behind a couple of runners who did not have the correct shoes on. I could not get past and the rest of the field got away. Eventually, at the top of the hill, we passed Mary Knoll and then went downhill. It was in a very boggy bit here that I managed to get past and to run at my own pace, but there was no way I was going to catch the rest of the field up.
I did see tantalizing glimpses of other runners in the distance, but never got near enough to them to catch up. I also was only overtaken by two other runners after this, so ran most of it on my own.
There was then the descent to the Pipe-Track and a left turn and some fairly easy running for a mile or so to the first pump building. Passing the pump building I began the infamous 'ups and downs'. These are something to do with the waterworks and comprise a number of steep climbs and descents.
In previous years I have managed to contour round on this section, going first to the left and then to the right – so running further but choosing a less steep path. This was not possible this year as there was too much undergrowth. I had to go straight up and down.
It was very slippery so the downs, in particular, were hard. Passing the second pump building and a cheery marshal, it did get slightly easier – it was still a steep uphill, but on a forestry track. From the climb over Bringewood Rise there is a good view of a fine mansion. I don't know what it is – must check it out.
Then it is downhill again over a grass section and then farm tracks to High Vinnals car park where the water station was a welcome sight. Welcome partly because I was pretty warm and needed a drink, but also because I knew it was over half way. I then climbed up over High Vinnals.
I was running so slowly that I decided to walk at this stage as it was pretty steep. After this there was a lovely run over Climbing Jack Common. The marshal here always looks like Santa as she wears red and has a white scarf which, from a distance, looks like a beard.
This is all topped off with a Santa hat. There is then a drop through new growth in the forest. I remembered running down there two years ago and having to lunge myself from tree to tree as it was so slippery. This year was easy running.
This led to a sunken path, which again was bad last time. I ran down there and was congratulated by the marshal at the bottom. Apparently I was one of the few who had stayed upright on the descent. This led back to the Mary Knoll Valley and a mile or so to run on a level path before climbing back up out of the valley and a good downhill finish.
I felt very tired at the end. There was 1700ft (520m) of climb and the mud made it hard going. Although I had been held up early on, I was pleased with my time which was better than previous years (surprisingly). This is certainly a great event. It clashes with Sneyd, so I know a lot of others from BvH are there. I can't run that far on road because of my knees, so always do Mortimer Forest in preference.