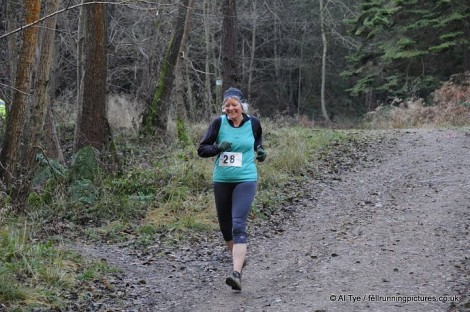 Lesley Pymm reports: What a lovely day to be running in the forest.
This run starts at Moor Park School just south of Ludlow. After a brief run over the playing field we crossed a cattle grid and then up another field before crossing the road and heading off through woodland before dropping into the Mary Knoll valley.
We ran along the valley – I took care to keep my feet as dry as possible as I crossed the stream as it was not the weather to be getting my shoes wet too early in the proceedings. A lovely run alongside the stream and then a climb before dropping down to cross the stream again.
This drop can sometimes be very slippery and I have frequently done it on my backside, deciding that was the safest way down. Anyway this year it was not too bad at all and I managed to stay upright down to the bottom. Another careful stream crossing and then a jog along to the bottom of a very long and steep climb.
I understand that even the fast runners at the front do not run this bit – they walk very quickly. The small group I was with was not even doing that! Eventually we got to the top passing Mary Knoll. We then descended to cross the road before another steep descent to the pipe track. This took us down to a fairly easy (it's all relative!) section through the forest to the first pump building.
Passing that, the famous 'ups and downs' come into sight – although not the top of them at this point. These are something to do with the movement of water. There are three steep little downhills with very steep uphills following them. The ground underfoot was not too bad this year and so we were able to go straight down and up – sometimes I need to zig-zag the hill.
There are glorious views if you just remember to look! About half way through the ups and downs you can see the second pump building which is reassuring but it is at the top of a very steep section! Anyway eventually this was all behind us, but there was still climbing to be done, but on road this time to cross Bringewood Rise and then drop down over a field before following a stony farm track which was very icy to get back to the road again.
A very welcome drink station is passed before climbing over High Vinnals – the bit that my selective memory had totally wiped out. It really is quite a climb after all the other climbs. At the top of it we go over Climbing Jack Common where one of the marshals always wears red and white – the first time I remember seeing her a few years ago I was really struggling and thought I was hallucinating and seeing Father Christmas.
Anyway, this year I felt fine and gave her a cheery 'thank you' as I went past. The next down hill which was incredibly slippery takes the route back into the Mary Knoll Valley and along the track by the stream. We then cross the stream again and onto the final climb before dropping back down to the finish.
Conditions underfoot really do make a difference. Some sections were so much faster than previous years, but then others were treacherous because it was so slippery so extra caution had to be taken. A great run. Well organised and very supportive marshals.
Provisional results here. (PDF)
Pic: Alistair Tye, www.fellrunningpictures.co.uk