Nicola Morris gives us another view of this race: About 8 hours after the end of the race and I think I was still thawing out! It is ironic to think that the conversations leading up to the Stratford half and full marathon had been about how we might cope with warm conditions and who was going to come down with a picnic to watch…..little did we know!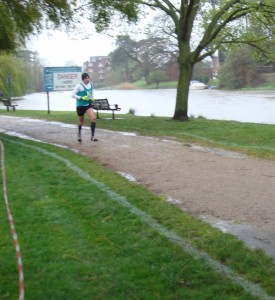 I arrived in Stratford fully prepared, or as prepared as you can be, to run the full marathon. Conditions were pretty horrendous – pouring with rain, windy and cold, but according to the website the race was still going ahead. Following quite a stressful parking up, finding the baggage drop facilities and then getting to the start…..none of which seemed to be very close to each other, hence my slightly panicked run/walk to the start line………I was ready to just get started.
At the start, with 5 minutes to go rumours started to go round that the full marathon had been called off due to the adverse weather conditions. Had it, hadn't it, nobody seemed to know for sure and a short announcement from the organisers that was barely audible still didn't leave me feeling very sure what was actually happening. What did I do now?
I'd trained for a full so was planning on taking it steady and was laden with more sugar in the form of gels and drink than I knew what to do with! There was very little time to give it much thought, we were off and I was still not completely sure what to do, take it steady in case there was a chance the marathon was still on or speed up a bit and try and do a decent half marathon run.
For the first 2-3 miles I still did not really know what I was doing. It had completely thrown me and at every opportunity I was still asking runners whether they knew the situation and whether there was any chance there would be a change of mind with any weather improvements. I was feeling quite sorry for myself given all of the training I had done until I heard from some of the other runners and the distances etc they had travelled to come and run the marathon.
By now I figured I should just get on with having a run and I have to say, the weather did not improve, if anything it got worse! The rain and wind was absolutely relentless, there was little in the way of conversation as people were just trying their hardest to keep running, heads down. My clothes were completely stuck to me and my hand felt like it was permanently moulded around my water bottle. I couldn't have talked if I'd wanted to with the rain in my face and my face and lips pretty much frozen in to position!
Having battled through the rain and the wind, particularly along the open country roads where we were completely exposed, I was hoping that things might get a little easier once we hit the Greenway….oh no! 3 miles of wading through water and mud just about finished me off. I would have had another gel but I was so cold and wet that I just didn't have the inclination to do anything but carry on trudging through the puddles.
I finally got to the end of the Greenway, fought the wind as I ran along the banks of the river and round the corner towards the finishing line, summoning my final bit of energy to aeroplane in to the finish line and avoid looking at what the clock might say as I knew I was going to be a little disappointed despite the conditions and the circumstances under which the race had started.
Probably one of the most surreal races I have ever done…….and I have never been as cold as I was at the end……sorry to everyone who had to put up with my shivering!
Despite the conditions though I have to say in a strange way it was quite an enjoyable run. It was great to see lots of Bournville Harriers at the end who all looked in very good spirits and to hear that Bournville Harriers had taken first and second place!….Fantastic!
Under the conditions, I think it would have been extremely difficult to have completed the route a second time and do the full 26.2 miles. I think it was the right call to only allow the half marathon to go ahead. I now have to decide whether to put my marathon training to good use by finding another marathon to do! Preferably when the weather is a bit better and my trainers have dried out!
Bournville results:
| | | | | | | |
| --- | --- | --- | --- | --- | --- | --- |
| Forename | Surname | Gender | Cat | Team/Club | Chip Pos | Chip Time |
| Orlando | Corea | M | 35 | BOURNVILLE HARRIERS | 1 | 1:16:36 |
| Paul | Thompson | M | 35 | BOURNVILLE HARRIERS | 2 | 1:17:03 |
| Stephen | Hopkins | M | 45 | BOURNVILLE HARRIERS | 262 | 1:43:49 |
| Simon | Newman | M | 35 | BOURNVILLE HARRIERS | 301 | 1:45:11 |
| Mark | Allen | M | 35 | BOURNVILLE HARRIERS | 300 | 1:45:10 |
| Maggie | Curtis | F | 35 | BOURNVILLE HARRIERS | 351 | 1:47:01 |
| Jude | Glynn | F | 45 | BOURNVILLE HARRIERS | 685 | 1:57:00 |
| Kevin | Peace | M | 45 | BOURNVILLE HARRIERS | 807 | 1:59:59 |
| Lesley | Proctor | F | 45 | BOURNVILLE HARRIERS | 896 | 2:01:56 |
| Julie | Jupp | F | 35 | BOURNVILLE HARRIERS | 864 | 2:01:15 |
| Rachel | Partridge | F | 35 | BOURNVILLE HARRIERS | 866 | 2:01:16 |
| Philomena | Williamson | F | 55 | BOURNVILLE HARRIERS | 873 | 2:01:27 |
| Danielle | Palmer | F | | BOURNVILLE HARRIERS | 897 | 2:01:56 |
| Steve | Hill | M | 35 | BOURNVILLE HARRIERS | 937 | 2:02:57 |
| Katie | Hughes | F | | BOURNVILLE HARRIERS | 993 | 2:04:08 |
| Elspeth | Robertson | F | | BOURNVILLE HARRIERS | 1014 | 2:04:59 |
| Lucy | Baker | F | | BOURNVILLE HARRIERS | 1083 | 2:07:10 |
| Amy | Rix | F | | BOURNVILLE HARRIERS | 1419 | 2:21:18 |
Full results (PDF)