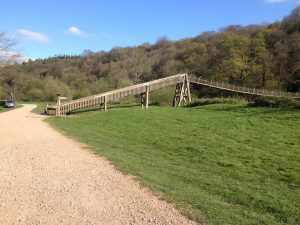 Lesley Pymm reports:  This was the final day of a running break. Having run at Tintern on the Thursday, Mike and I ran Lydney parkrun on the Saturday and then I did the 12K Monmouth Challenge on the Sunday.  I had done this one before and quite enjoyed it – the first half more than the second!  The race allows free travel between Wales and England.
There is an open water aquathlon going on at the same time as the race.  They swim in the Wye first and then race the same course as us.  We were all waiting on the bank of the river to start and watching the faster swimmers come in and then run off ahead of us.  Obviously this meant that the slower swimmers would be behind us when we got going – not necessarily the slower runners.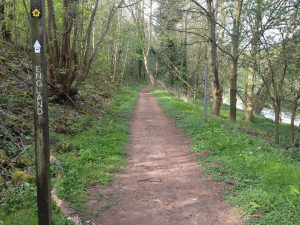 Off we went,  Basically the run is along the river bank to a bridge and then back on the other side.  It is a bit more interesting than that though.  I enjoy the first part as it is not too difficult to run but technical enough to make it challenging.  There are  a lot of gates that we had to go through and good views of the river.  Of course, as one of the slower runners I had to be aware of faster aquathleets(?) coming along behind me.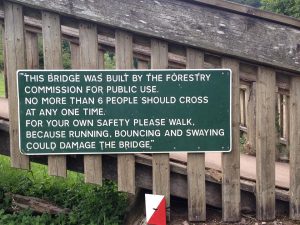 The bridge is a suspension one and you are only allowed to have 6 people on it at once.  I remembered this from the previous time.  There were more people entered this year, so we were chipped and there was a mat before and after the bridge.  The time between the mats was 'dead time'.  It was a very warm day and it was good to get a break in the middle of the race.  The drink station was positioned just before the bridge, so we could grab a drink and then take our time drinking it as we waited until we were able to proceed.  The bin for the cups was at the other end.
The second half is probably easier running, but more like road really.  It is a cycle path and you did have to be aware of families who were out with children on the bikes.  The last bit is on road as we come in towards the leisure centre where it is based.
I enjoyed it.  Good facilities.