Lesley Pymm reports:  I entered this one on a whim – it appealed to my attraction to runs that are a bit different.  The main event was an open water aquathlon, but you could do the run part as a stand alone.  I entered and duly turned up, in the rain, on Sunday morning.  I went to registration to get my number and chip – and discovered that there were only about 13 people entered in the run!  They brought the start forward by 5 minutes so that we would be running with the people doing the aquathlon.
We watched the first of the swimmers get out of the river and run off towards transition.  It was not long before he ran past us standing on the start line.  Then we were off.  The first half was a bit harder than the second half as it went alongside the river on a muddy path.  My main problem was with the wooden bridges over some small sections – I had to ease off then as I was slipping.  There were a load of gates that had to be opened.  I was also being passed by faster runners from the Aquathlon and had to stop and move over.  There was a young woman ahead who was doing the run only, and every time I seemed to get a bit closer to her I had to slow down again.  Suddenly I hit a branch with my head and my hat came off!  I stooped to pick it up and thought I'd never catch her now.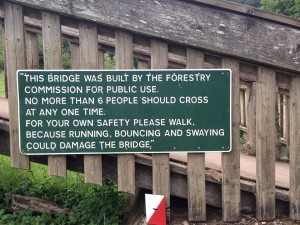 I ran out of the woods and found that I had go almost to the turnaround point.  I was running through Biblins Campsite.  It was a little uphill section – and the woman ahead was walking!  I passed her as we got to the drink station and then ran downhill and along a track to get to Biblins suspension bridge.  This was where we HAD to WALK – strictly no running and no more than 6 people on the bridge at once.   Over the bridge and the return route was mainly on what had been an old railway line.
It was wide, so overtaking was not a problem.  The surface was trail-like,  The final mile or so was on tarmac and I was just going as quickly as I could.
The final distance was just over 7.6 miles and I did it in 1.19.38.  I was happy with that.  I had enjoyed the run.  It was a shame that weather was so bad as it was Carnival Day in Monmouth and this is usually good fun, but we just went off towards home after I had showered.  Good event, and if anyone does open water swimming or has a friend who does – think about it for next year. It can be done as a relay.