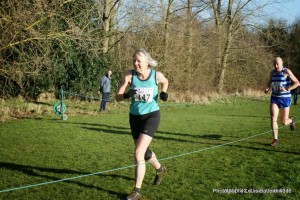 Lesley Pymm reports:  This was the annual Masters XC championships.  It was held at Aldersley in Wolverhampton as it has been for the last couple of years.  Much of the course was familiar as we had been there for the Midland 5 and 7 miles earlier in the season.  The weather had made a difference this time!
It was a lovely day as the sun shone down and there was very little wind.  It was, however, very cold and the ground did not defrost in many places.  I used medium pins in my spikes as I realised that there would be places where I needed spikes, but that in other places it would still be rock hard with the ice.
I was right.  It was really hard.  There were times when I was wading through mud and could hardly move and other times when it was so rutted that it was difficult to run I was afraid I was going to trip.
It was really good.  There were a few more entrants than last year, but it would be good to see more runners.  I took bronze in the W60 category, which I was happy with.  There was no way I could beat the two ahead of me in my category – even on a good day, and this wasn't as I needed to wear a knee brace.