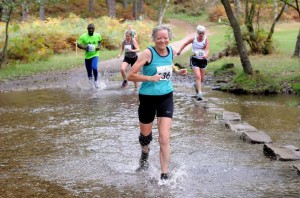 Lesley Pymm reports:  Not the best preparation for the XC relays maybe, but I had already entered when the date for the relays was announced.  I decided to go ahead and run, but to take it steady as a warm up to the relays in the afternoon.  I know, how can any 10k run on Cannock Chase be a warm up?  Hey ho!
I turned up at Milford Common on a lovely warm morning and didn't bother warming up, politely declined the invitation to take part in the official warm up and made up my mind that I was just going to have an easy jog around.
This is exactly what I did and I really enjoyed it.  The first half was predominantly uphill, with some pretty hard climbs included.  The only complaint I have is that there were a number of runners using headphones.  I know that I have a problem understanding why anyone should want to use them anyway, but I do get particularly annoyed when they change direction in front of other runners without realising that they are there.  This happened a few times.
There was a drink station at about 1/2 way and then there was a bit of downhill.  It really was lovely.  I have run on the Chase before, but usually laps.  This was a big loop and it was beautiful.  You had to be a bit careful to follow the right arrows at there was a mountain bike event on at the same time – a lapse in concentration and you could end up on a very long loop!
A friend who is in my age category came alongside me and said: 'Come on, Lesley – we can catch that man in red'.  I told her to carry on, I was keeping to my steady pace.  I kept to my pace and watched her catch and overtake the poor man who had become a target!  A bit later on, in some muddy bits, I actually overtook both of them as they were wafting around the mud.  I just went through it.  Well, it was a warm up for XC!
We then went through the water.  Some people used the stepping stones, but I know the area and think that the water is safer – you can slip on stepping stones and the water is rarely deep.
I was a bit worried about the final downhill at the finish.  Everyone else was worried about falling and looking stupid in front of everyone – I was just worried about going over something so that I couldn't run in the afternoon.
I finished safely and picked up the technical T shirt before heading quickly to the car to grab a sarnie before driving over to Walsall.  My time at the relays probably reflected the fact that I had already run – but I really did enjoy it and hope that next time it does not clash with anything else.  Would love to run it again.  Great course.