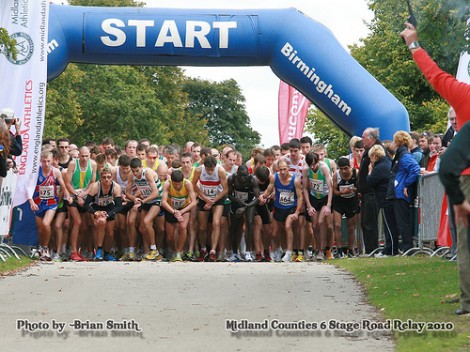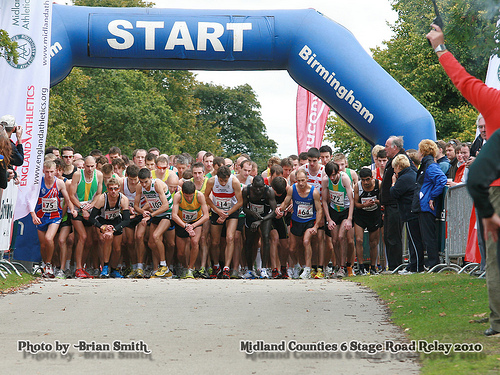 Jon Grix, Road Relays Team Manager, reports on an excellent weekend for the men's team.

Performance and Participation: Bournville teams excel in Midlands Road Relays

Three and a half Bournville teams took to the roads in the notoriously tough Sutton Park on 25th Sept. for the Midland Road Relay Championships. All three complete teams ran faster than their equivalent (A, B and C) has ever run in these championships, with an excellent new Club Record of 1:59:18 for 17th spot for our top squad. [Please see the club records section to see the impact that this year's championship has had on the club rankings].
Of that bunch, it was Rob (the 'champ') Andrew who got the team off to a cracking start with the 2nd fastest time ever by a BvHler (19.23), despite having spent the previous few days playing golf (what he is also, annoyingly, very good at!). New signing, Andrew Halliday, ran very well for his debut on this course, clocking 19.47. Whilst some of the Midland's top clubs are recruiting from far flung places, we only went as far as Yorkshire for Andrew, but his addition should have the same effect of bolstering the top-end of our club.
The home grown talent in the shape of Gareth Cadd – a man who 2 years ago was happy to break 20 mins for 5K – rightly staked his claim to be in the first team by knocking a huge chunk of his best for this course with 20.27. Gareth handed over to 'our' Chris – another foreign signing, this time from Liverpool – who, despite a number of injuries sustained playing footie, stormed around in 20.06 – another remarkable debut run.
The ever reliable Deano, who looks to be rounding nicely into form for the cross-country season, clocked the 2nd fastest BvH time of the day with a solid 19.40 to inch the club into 17th on leg 5. Mark Hobbs, another home-grown talent and another who has progressed rapidly in recent years, produced a fine 19.55 on the 'graveyard' slot of last leg. Well done to the A team who reduced the Club Record from 2: 02: 32 (2008) when we finished 27th.
All other members performed well, with the B team finishing 40th and the C team 70th from 88 complete teams – notable performances in the B, C and Ds teams include encouraging runs by Andy Clayton whose pedigree is slowly coming through. After a good winter behind him, Andy will be looking for a place in any future A team; Mike (Dark Horse) Ungurs is another who, if he simply carries on as he is, will completely rewrite his PBs on the road next year (21.06 for the 3rd fastest in the B team); Sean Rose (21.00) showed he is rounding nicely into shape as he ran on the last leg into a stiff headwind; Steve McGlen – a recent daddy – still managed a 21.20 clocking, while Simeone Paine dipped under 22 mins with a 21.52 lap.
Andy (Shaky) Saker, a former legend from Kent against whom I had many a battle as a youngster, continues to return to form (22.01) and will be looking to be part of a very strong BvH 12 stage team in March, 2011. My own run was all I could expect after a very long lay-off and only relatively low mileage of late (20.53).
I, like Clayton, Rose and Ungurs, will be looking to push someone out of the A team in future! Danny Wilson and Andrew Edgar put in solid 22mins+ runs, while C. Harlan-Marks, Stuart Pearson and Bob 'I'm on the telly' Hockenhall all ensured the C team finished strongly. Steven Hill and Gary Hawkesford gained valuable experience on their legs running at these Area championships.
All in all, the team choices were vindicated – that is, apart from Adrian Fowler (in the D team) whose scorching lap would have seen him as the 2nd fastest in the C team and knocking on the door of the B team – a great aim for the future.
The A team have qualified for the National Road Relays on October 16th and will be looking to reduce the Club Record still further.
Results (position first; position of runner during the race in brackets):

17 BournvilleHarriers 'A' 1:59:18
1 Rob Andrew (30) 19:23
2 A Halliday (22) 19:47
3 Gareth Cadd (23) 20:27
4 Chris Collins (19) 20:06
5 Dean Parker (18) 19:40
6 Mark Hobbs (17) 19:55
40 BournvilleHarriers 'B' 2:07:20
1 Andrew Clayton (58) 21:09
2 Jonathan Grix (47) 20:53
3 Stephen McGlen (46) 21:20
4 Simeon Paine (45) 21:52
5 Mike Ungurs (41) 21:06
6 Sean Rose (40) 21:00

70 BournvilleHarriers 'C' 2:20:33
1 Andrew Saker (73) 22:01
2 Daniel Wilson (71) 22:44
3 Andrew Edgar (68) 22:26
4 C Harlan-Marks (71) 24:34
5 Stuart Pearson (69) 23:26
6 Bob Hockenhall (70) 25:22
BournvilleHarriers 'D'
1 Steven Hill (102)26:45
2 Adrian Fowler (92) 22:20
3 G Hawkesford (93) 27:16
Many thanks to Steve James who gave up his day to help out with the numbers, bring along and put up the tent and generally offer support to all of our runners