Report from Julie Delahaye-Slater: Eight Bournville ladies (Sarah, Aine, Becky, Emily, Laura, Helen, Marianne and Julie) turned out to brave the muddy terrain of Newbold Comyn Common, Royal Leamington Spa for the Midlands Cross Country Championships.
There would have been nine of us but unfortunately Sarah Roberts had to pull out through injury. However, she was there to support the team which was fantastic. We all gathered at the start line shivering in our teal vests, trying to stay together to keep warm. I just kept thinking to myself why had I agreed to do this race, a thought that always goes through my head as I stand on the start line but I always remind myself of the great feeling you get when you cross the finish line!!
The course was very muddy, hilly in places and consisted of a water feature. What I actually mean is, a muddy water filled ditch which we had to run through twice. However, I am pleased to report that not one of us fell in, unlike many other runners. In fact, we were the cleanest team to finish. Another great performance from Marianne who led the team home.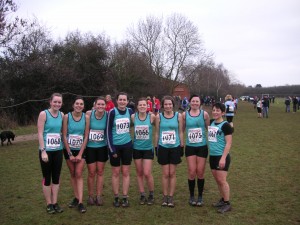 Strong performances by the rest of the team followed. Well done to everyone. The support out on the course was great. Thanks to Matt, Gareth, Laura's Dad Stuart and the dog, Paul, Sarah, Aaron and my nephew Max. Big thanks to Sarah for doing such a grant job organising the team and of course the goody bags at the end.
Bournville results:
15th (of 22) | 361pts | BOURNVILLE HARRIERS ( 64 92 99 106 )