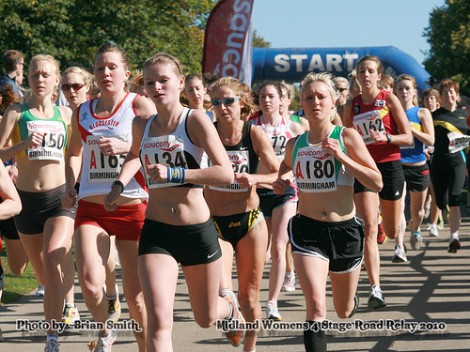 Mel James reports: The ladies entered 2 full teams in Saturday's 4 Stage Road Relay. Despite several runners being unavailable to run on the day, the first team still finished 18th in our second fastest time over the Midland 4 Stage.
A number of the team had not raced in the 4 Stage before and I hope that they will return to the event. I would like to highlight Caroline Harlan-Marks and Michaela Thompson who both knocked considerable amounts of time off their previous performance – Caroline was over a minute quicker than last year, Michaela nearly 30 seconds, which isn't easy on such a short course. Sara and Cat, both new to the event, ran extremely well for the A team which helped us finish in such a creditable place overall.
Emily Holden led off our B team. As anyone who has run the first leg will tell you, this can be quite daunting! However, Emily handled that mad rush at the start well and handed over to Tamara who ran the fastest leg in the B team of 19.59. Lesley Pimm completed the line up for the B team, finishing in a W55 club record and very respectable 24.04.
Thank you to everyone for your support on the day. A cheer half way round makes all the difference. Once again, thank you to those who took the time to make cakes – very much appreciated equally by the men's and ladies' teams! It's things like this that add to a good team spirit.
Finally, well done to both the men's and ladies' teams for their efforts – a really good day.