BvH Men achieve a new Club record and qualify for the National 6 Stage
BvH Men's teams were out in force at this year's Midland 6 Stage road relay in Sutton Park with 4 teams.  Our A team finished in 15th, qualifying for the National Championships to be held on 15th October at Sutton Park, and also running a new club record for the event.
Great performances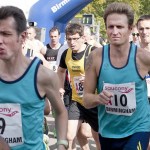 from the other BvH teams which included many new faces to the team relay events.  Well done to all who took part and also those who came to support the Men's and Ladies teams on the day.
15  Bournville Harriers            'A'  1:59:05
Gareth Cadd         (29) 19:59
Jonathan Grix      (27) 19:43
Rob Andrew          (21) 19:54
Paul Thompson    (20) 19:43
Andrew Halliday  (19) 19:58
Gary Blackman     (15) 19:48
50  Bournville Harriers            'B'  2:14:01
Simeon Paine     (67) 21:59
Rich Bayliss        (57) 21:48
Kevin Oakes        (59) 23:32
Chris Tarren       (56) 22:24
Stuart Pearson    (56) 23:05
Chris Collins       (50) 21:13
72  Bournville Harriers            'C'  2:21:18
Daniel Wilson    (73) 22:17
Barry Gardner    (66) 22:57
Jack Roberts     (76) 24:30
Nathan Jones     (76) 24:03
Chris Harlan-Marks    (73) 23:41
Matthew Slater   (72) 23:50
78  Bournville Harriers            'D'  2:31:50
Andrew Hoole     (90) 24:19
Paul Gorman      (89) 25:55
Andrew Wheeler   (82) 22:42
Bob Hockenhull     (83) 25:21
Steve Hopkins    (79) 27:33
Paul Dugmore     (78) 26:00
Full results: http://www.race-results.co.uk/results/2011/m611.htm
Brian Smith's photos: here