Laura Leslie reports: Seven intrepid BvH women arrived at the beautiful Woolaton Park in Nottingham on Saturday January 28th, the setting of this year's Midlands Area Cross Country Championships.
There was certainly plenty going on, with tents, banners, childrens races, a stately home and wild deer to keep us occupied prior to our race start.
We lined up with around 160 other Midlands females with the sun shining but a fairly low temperature, seemingly great running conditions. The start was fast and Linda and Marianne soon disappeared from sight! Our 8K race consisted of 1 short (didn't feel it!) and 2 long laps each with three significant hills and a long downhill finishing straight. Conditions underfoot were good, with some small muddy patches, but mostly even grass with the odd avoidable pothole.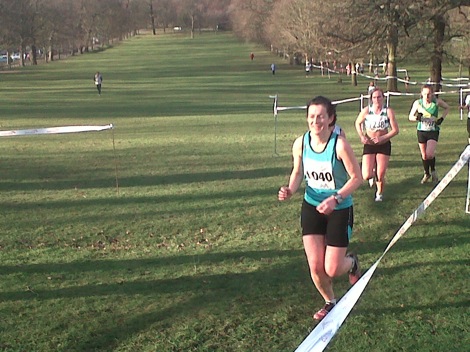 The support around the course was incredible, especially considering how far we were from home. The highlight was Matt Slater shouting encouragement in the form of "Just think of Cofton, you do this every weekend!" I didn't think of Cofton, I thought of cake, but the thought was there and the encouragement from everybody was fantastic, big, big thanks! We also got to return the favour of supporting the BvH men who ran straight after our race.
We finished an incredible 8th out of 21 teams, in this regional competition. This is a superb achievement and advertisement for our club. Everyone in the team ran brilliantly, including a return from injury for Fiona and from illness for Linda. We had the usual precision organisation from team captain Sarah Rock, goodie bags to see us through the journey home, plus two different cakes! What more could we ask for? Well done team BvH, good race and good cake.
RESULTS
37 32:30 M Hensman
45 33:06 Linda Howell
65 34:47 Laura Leslie
76 35:47 Nicola Cumley
84 36:06 Sarah Rock
90 36:21 J Delahaye-Slater
92 36:41 F Heath-Brown
Full results (PDF)