Lesley Pymm reports: This was the final event in the Mid-week Series and there were a number of runners from BvH. Like many off road events this year, the course was changed owing to very wet areas caused by the rain we have had.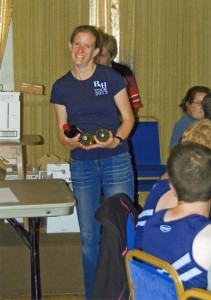 What is always a slightly confusing course became more so this year. It is a 3 lap course, and as it is only 5 miles this means that the runners come round again pretty quickly, so it is good from the supporters point of view (unless they had hopes of sloping off to the bar for a pint whilst we were gone, of course).
The disadvantage from the slower runners point of view (and those at the very front) is that we start getting overtaken really early on and there are only narrow paths in places so it is difficult to get out of the way.
Each lap starts on the running track and goes out to climb into the woods, down a very steep and nasty bank and into a field then back into the woods, passing the tennis courts and then over a slippery bridge before climbing steps to bring us back into the track area again.
Thanks to Izzy and Brian Pearson for their shouts – they seemed to be everywhere and it was great to hear them shouting. Thanks to Sam for passing me some water as I started on my third lap (he had already finished of course).
There was a long wait afterwards for the presentations – but a real ale bar, lots of totally unhealthy food and the Olympics on television kept us amused until they were ready. No surprises in the women's event – Linda was first and Sarah second. In the men's – Sam was joint third and Stewart won his category. There seemed to be an awful amount of wine making its way back to south Birmingham.
Unfortunately Mike was having problems with his flash on the camera, so only the picture of Linda came out! Sorry guys.
Great series of runs and it was good to see so many from Bournville there.