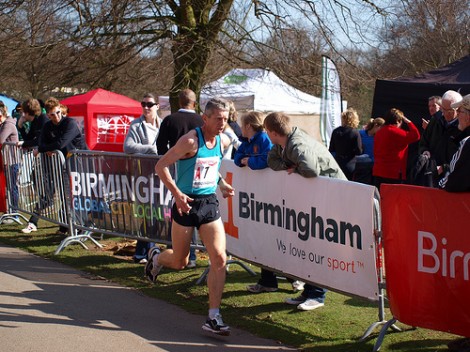 Jon Grix reports: Despite a modest turn-out, a few 'big' names missing and a few last minute withdrawals, Bournville men easily qualified for the National Relays (April 9th), finishing 15th, well within the qualifying top 25.
First a big thank you to all the people who helped out on the day, including Stuart's dad, the lovely Slaters and Linda for bringing the tent. Thanks too to the ladies for sharing their team spirit and cakes!
Our very own cross-country captain, Rob 'consistent' Andrew, led the team out – after having helped me with entering the teams on the day and suffering from a cold – in usual fashion. Rob posted a PB of 29.37 – had he not had a cold it is likely that he would have substantially broken the long leg club record and dipped under 29.
Your Road Relay Team Manager, 'jogger' Jon, took over the baton and put in a reasonable 16.15 (about the same pace as Rob, but unfortunately 2 miles shorter!). After being out of action for a while, it's good to be running a little faster again. Speaking of which, Andy Clayton loped 50+ seconds of his last year's time when galloping around in the team's 2nd fastest short-stage time of the day, 17.00. Andy looks set to radically revise his 5K PB by the end of summer if he keeps this up.
Gareth Cadd, after a few recent wobbles, made an excellent and well timed comeback, putting in a 30.12 long leg to take a huge chunk off his previous best. Let's see if he can dip below 30 in the Nationals. Steve Cumley and Seb Hobbs completed the next two short legs and both looked very impressive indeed. Steve (clocking 17.34) looked relaxed and can clearly go much faster in the future; Sebb, a newcomer, powered around to a 17.25, not bad going on this notoriously hard course.
Sean Rose, fresh from a massive 10K PB the week before, ran a good, solid 30.16. Although a PB, Sean was perhaps hoping for a little more. I think it likely that he will knock more off this at the Nationals, a week before the London Marathon. Matt Slater took half a minute off his best going under 19 minutes – it is a wonder he can run at all, given his wife's wonderful baking prowess – showing that moving up to the 'A' team can bring out the best in people.
Stuart Pearson looked strong as he powered around in close to 6 mins per mile in 18.17 – a few more month's training (and a few less beers) and Stuart would easily dip under the magic 18. Our very own Deano, running with last week's 20 miler in his legs, still managed to run the fastest long-stage of the day (29.30), an indication of the strength he has built up throughout an excellent winter of training and racing.
Danny Wilson, originally in the 'B' team, not only showed flexibility in changing from a 12 noon start to nearer 3pm, he dropped down from the original long to a short leg and ran superbly (18.16), revealing that his training must be going well. Last, but certainly not least, Mike Berry rounded off the record-breaking team effort – despite running with a dodgy calf and having missed training – with a solid sub 19 clocking (18.54). Without injury Mike would normally run up to a minute faster – this, and the fact that almost all of the men above could improve, means that we can still improve on this excellent performance.
A quick word on our 'B' team – many thanks for the cooperative and flexible nature of the guys. Terry, Paul, Paul G and Nathan all showed good team spirit and humour.
If you would like to be considered for the National Road Relays (April 9th), let me know as soon as possible.
A final couple of personal observations from your Team Manager. While we should rightly be celebrating our 15th place in the Midlands, the decline in standards of distance running in the region was in clear evidence on Saturday. I have never seen such gaps between the teams at the front, let alone the middle of the pack.
It is clear that many clubs simply cannot get out 12 blokes to run (have a look at the very good incomplete teams – need to bear this in mind too when someone as good as Rob finishes 21st on the first leg. Most clubs front load their best runners and many teams fail to finish). This decline has benefitted clubs like ours – also BRATS who were placed 5th at one point.
The most significant reason for this decline in standards is the drop in number of people in the sport and a drop in the willingness to put in the miles. It's also noticeable that those athletes in BvH in the list above (and the ladies) who have put in the training at Joe's Saturday morning and Monday evening sessions, funnily enough, are the same athletes who are consistent, have improved or are still improving.
Pics from Steve Hopkins.

Results:
15th Bournville Harriers 'A' 4:22:13
1 Rob Andrew (21) 29:37
2 Jonathan Grix (17) 16:15
3 Andrew Clayton (16) 17:00
4 Gareth Cadd (16) 30:12
5 Steve Cumley (18) 17:34
6 Simeon Paine (18) 17:25
7 Sean Rose (17) 30:16
8 Matthew Slater (18) 18:57
9 Stuart Pearson (18) 18:17
10 Dean Parker (17) 29:30
11Daniel Wilson (15) 18:16
12 Mike Berry (15) 18:54
Bournville Harriers 'B'
1 Nathan Jones (46) 40:42
2 Paul Gorman (46) 21:27
3 Terry Doherty (46) 20:43
4 Paul Dugmore (44) 37:55