A new BvH Club team record and some superb individual performances..
BvH Men's Relay Team Manager writes: The National 6 Stage Road Relays where held at a cool and calm but very sunny Sutton Park with over 72 teams completing the event.
Our new member, Orlando Corea was on first leg and despite never running anything like this before, ran an awesome leg in 19:18, which is a new Club age record,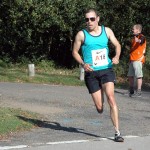 for the 5.8k, also looking very cool in his 'aviator' sun glasses…  🙂  Next up was Gary Blackman who ran an fantastic leg of 19:16 which was significantly faster that his time 3 weeks ago on the Midlands and just missing the individual Club record by just 2 seconds.   Following Gary's effort was Paul Thompson who also shaved of a big chunk off what he ran the other week with an impressive 19:23.  Next on 4th leg was Rob Andrew who ran a solid 19:43 despite the race starting to get very drawn with big gaps between runners and where the battle starts to get mental as well as physical. Up next was myself (Gareth Cadd) and ran 20:01 which was practically the same time I ran at the Midlands.  On the 'glory' leg was Dean Parker who ran a very respectable time of 20.08 despite returning from injury.
All of the guys today had their 'game faces' on we finished overall in 59th place (and a very respectable 11th Midland A team), in a time  of 1.57.49 which is a new club team record for the Men's 6 Stage Relays and Gary, Orlando and Paul have completely mixed up the individual club rankings.
A big thank you to all the people who came along (and women who stayed after their race) to show their support. A personal
thank you to Katie Roberts from myself for the water, I cant emphasize how much I needed it at that moment in time.
Bring on the 12 stage next spring where I think Bournville Harriers could achieve something very special.
Full results are available on following link http://www.race-results.co.uk/results/2011/nat611.pdf
Bryan Dale's photos are here
BvH 6 stage relay rankings here