Sean Rose reports: The past week has been a great time to be a Men's Master. We have put out teams that came 5th at the Midlands Cross-Country Relays and then medalled at the BMAF Cross-Country Relays where we came away with a Bronze medal for the Midlands region and 6th M35+ team.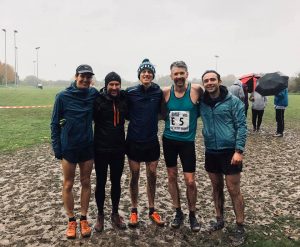 Two years ago we DNF (only put out 3 men) and came 19th at the same races and it has been a steady and focussed attempt by the team to get us back to where we should be performing. Indeed it is probably true to say we could have and should have achieved more with a 2nd place at the Midlands only a decision or two away. The club has heritage at the BMAF both taking Gold and Bronze at the national level. Those results came from a combination of three things, namely talent, commitment to train and commitment to race. 2019 has been a year where it has all started to come together again and bodes well for 2020. We have strength and depth in the club to race well as a Master so it really all comes down to commitment.
I thought I would share my race report of the BMAF Bronze!
"As Stephen and I pulled in to the car park our first challenge was to find a parking space not surrounded by a couple of inches of water. It was going to be one of those days. But the first person I saw as I walked up to the race area was Lesley Pymm finishing her leg and that filled me with pride as she epitomises that commitment to race whatever the conditions and years of experience.
Finding the women's team it all got a bit surreal with Mat also walking around in his wellies. The stories of mud, flooding, calf length and knee length submergence and lakes of water all abounded. It was going to be hell out there and the women were going through that mania of pleasure in the pain of having ran in the freezing cold and being drowned like rats on a sinking ship.
I decided hiding in the car and warming up on the road was the best way to stay sane but of course that meant not walking the course so all I could do was try and watch how our race unfolded and race the position I was given. We had gone with one team this year M35+ and decided to go out in performance order. See if we could hang on and improve on last year's 12th. Matthew Pollard was the star of the show storming in 2nd overall. A truly amazing Performance! Mat has upped his game again this year (60-75 miles a week) and is reaping the rewards. Then leg by leg every man did their bit. Richard Keep was next, followed by Iain Jones, Stephen Forcer and then me Sean Rose. The guys held on losing only one place each leg. Testament to scrapping and fighting all the way. The team is a work in progress but many of us are training harder than before and it showed. Doing the right things at the right time we are all putting together a strong winter of endurance. We all had to race ahead of a chasing pack with only the super talented getting past each of us. When the results were combined with the M45+ we had won a Bronze for our Region. No mean feat given the riches of talent on offer! Believe me it can be intimidating as you are truly racing your peers.
I usually give a blow by blow account of the race…but here is my leg as I think you will get a feel for the conditions. The opening fields were water logged. Quick at first and then sodden with your feet under the surface a lot of the time in mud and having to charge through 3 or 4 mini lakes each to your calves. Certainly, made for those who were strong and could switch-off the most. Then it became hell. Through the woods it was a river. There was no visible route, just water and like the marshes in Lord of the Rings you could imagine the odd ghost rising out from the submerged grass ready to grab your ankles and pull you down into the depths. Skills at aqua-plaining with lots of high knees were called for as you were in knee deep. (Mat over took 4 people in here!!). There is a bridge crossing in the middle and when I hit that I had to stop running and wade the few meters. Out the back it was up onto the embankment for the second mile to home. At last some firm running if you call mud that has turned into a slurry on top of compacted ground good running. At least you could get into a rhythm and race in. The obligatory charge and sprint because you just don't know what is happening and who is where. There is no cheeky glance back or around a corner with this race. You just have to nail it. At the end its all about getting out of the cold and wet while the buzz of the adrenaline kicks in. Stephen and I had to dash and it was while getting chicken nuggets and coffee on the way back home that we saw the warming news of a Bronze!!! We missed the photo op… but like I say you have to be in it to win it!"
Before I finish I would like to thank Ian Mackenzie for his patience in organising this year's men's cross-country and also the additional men who raced at the Midlands to come 5th, as we are one team, namely Kevin Morris and Grant Whigham. Next year lets kick on some more!