Bournville Harriers hosted an excellent event for the second of the four Birmingham and District Division 1 cross country races at Cofton Park on Saturday.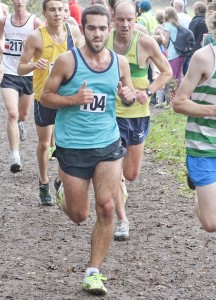 Rob Andrew writes: Although BvH couldn't quite live up to the standards set in the first race at Leamington, partly due to injuries, it was still an encouraging performance finishing 10th on the day, and 8th position overall after 2 races. The B team finished 9th, but actually improved their overall standing from 6th to 5th which was a great effort. 
Mark Lynock and Sue Ward in particular deserve our thanks for putting on a great event, and Brian Pearson too for providing the tents and equipment which enabled hot drinks and cake to be served. Many others came to help, marshall and support – your efforts were all greatly appreciated. And last, but not least, thanks to all those who raced, another great turnout, 22 this time with 5 new faces for this season.
Gary Blackman was unable to race so acted as team manager on the day, meaning that Paul Thompson – fresh from his international race in Glasgow last week  – led the team home in 60th, closely followed by an improving Orlando in 62nd. I was disappointed to finish in 72nd (shaving off the movember I suspect!) and had to fight to hold off a rapidly improving Matt Cook one place back in 73rd spot. Gareth and Chris Collins provided great support in 91st and 95th completing the A team and ensuring we had 6 scorers in the top 100 again. Although only 10th A team on the day, the team performed well in retaining 8th position and it is hoped that some of those absent due to injury will be fit in time for the next league race in January.
Rich Bayliss continued his good form to lead home the B team, finishing 130th, Brad Todd 150th, Sam Chatwin on his club debut 154th, Simeon Paine 157th Stuart Pearson in 171st and Andy Wheeler 181st. Special mention to both Brad and Simeon who both improved by 18 and 26 positions respectively from the last race. The B team moved into 5th position overall and it would be an excellent achievement this position could be maintained to the end of the season.
Barry Gardner was first back for the unofficial C team in 184th on his debut this season, Matt Slater with an encouraging run inside the top 200 in 198th (just Matt !!), Mike Scotney without his camera in 207th, Jack Roberts 228th, Bob Hockenhull with his first run of the season in 231st and finally Paul Gorman with a great run in 233rd. Paul has shown steady improvement this year and it was nice to see him break into the C team.
Paul Dugmore was first back for the 'D' team 234th, with his mate Terry only 3 behind this time in (work it out —). Club debutant Jonathan Hammond was one place behind in 238th and finally Mark Doudican in 250th. Mark should be congratulated on his run as he ran over 9 minutes faster in this race than at Leamington. Even though this was a shorter course it still shows a massive improvement, as most others only ran between 4 and 6 minutes faster than last time. This reinforces the point that regardless of where we finish in a race we should look to improve on our previous performance and use races as a means to show progression in our running.
Next up is the Warks County Champs on Jan 7th (please let me know by end of Monday Dec 5th if you want to race) and then the 3rd league race the week after on Jan 14th. Either stay fit or get fit and see you there.
Results here
Nick Price photos here