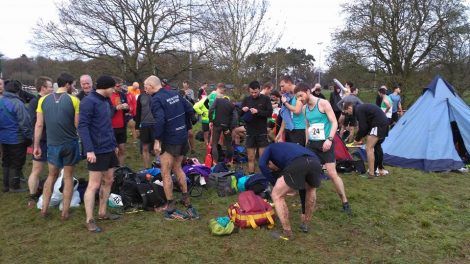 Men's Cross Country Team Manager, Mat Pollard reports on the latest league race: Despite little chance of promotion or relegation from division 2, it was another great turnout for the Bournville Mens XC team. The race has hosted by Telford AC at Lilleshall National Sports Centre. The race consisted of one short lap and three long laps, making up approximately 5.5 miles.
The course ran round the edge of two fields, which were heavily waterlogged when we arrived. One field was fairly flattish and the second field a little more technical with a gradual gradient and a couple of steeper short hill sections.
The waterlogged course was churned up pretty quickly by the two hundred or so runners, turning the course into a challenging muddy fest with some particular boggy sections. This made the race pretty heavy going towards the end of the race.
Thank you to Iain Jones for stepping in to marshal and also thanks to Brian, Isobel and Sean for your support!
Going into the race 3, Bournville were in 6th place in division 2 (top three are promoted) with 582 points.
Race 1 – 220 points
Race 2 – 362 points
In case anyone is unsure of how the scoring works, it is the combined race positions of the first six runners from the club. The following 6 runners are scoring for a separate B team league.
19th – Chris Collins
38th – Mat Pollard
45rd – Johnathan Scott
48th – Paul Thompson
80th – Oliver Kirkland
93th – John McKeon
95th – Stuart Pearson
101st – Andy Hoole
108th – Simon Newman
112th – Ian Faddy
120th – Matt Slater
123rd – Adrian Fowler
152nd – Simeon Whiting
163rd – Dave Powner
219th – Paul Samuels
223rd – John Cheel
A Team scored 320 points, finishing 7th on the day and remaining 6th overall
B Team scored 659, finishing 5th amongst other B Teams and we remained 5th in the B League.
Follow this link for full individual and teams scores: http://www.birminghamccleague.co.uk/images/stories/bdccl/articlepdfs/XC_League_Archive/2016-17/2017-01-14-M2.pdf