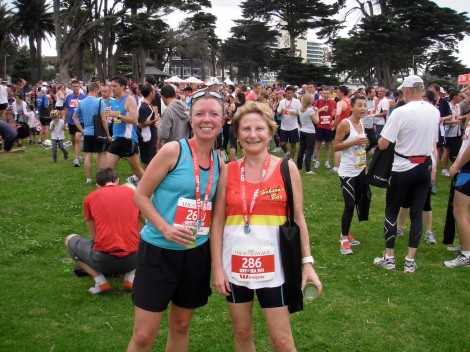 Kat Gibbons reports: Ok, so I know I'm not technically a BvH member anymore but I didn't think you'd all mind if I took the mighty teal vest on a little adventure down under.
In the first few months of this year my running had been sporadic at best. So after arriving in Australia one of the first things I did was seek out my nearest friendly running club. I met so many fantastic people in the 5 years at BvH and have come to realise that running is not only central to my general well-being, it's also a fabulous social community. So over the past 4 months, with help from the lovely folks at Hobsons Bay running club and my saturday morning running girls, I've gradually been getting my fitness back and making some good friends along the way. I figured it was now time to put that fitness to the test.
On Sunday I took part in the inaugural Melbourne City2Sea race. It's the sister race to Sydney's city2surf which attracts 85,000 runners and contains the infamous 'heartbreak hill'. In true Melbourne-Sydney rivalry anything Sydney can do, well Melbourne will certainly have a good crack at doing better (and whats more they won't be as evil as to put in a big hill – thankfully Melbourne doesn't do hills). The 14k route starts from the Arts Centre on the edge of the city centre and follows St Kilda Rd for a couple of kms before turning in for a lap around Albert Park (where they hold the Australian Grand Prix) and then heading down for a final few kms of out and back running along the bay, ending by the sea in St Kilda.
When registering for this event you'd had to decide which colour start you wanted – red for under 75mins, green for over 75 mins and joggers and yellow for everyone else. I'd opted for the red start. At the time I thought I might be being a bit optimistic but figured it was worth a shot.
Melbourne weather is quite an unpredictable beast, and after hearing predictions of 29 degrees and sunshine, for once I was delighted to wake up to overcast skies. So after a quick burst of the National Anthem, at 9am I set off towards the sea along with 13,000 other runners. The course itself is pretty much as flat as they come. The only minor undulation appears coming out of Albert Park and is swiftly followed by a short downhill towards the bay. I'd decided early on that I wasn't really going to watch my time but run according to how I felt. However a quick peek at my watch at 5k told me I was at the 25min mark and making steady progress.
Feeling good I told myself to keep at that pace and not try to do anything silly. The humidity had picked up and who knew if or when the sun was going to appear from behind the clouds and punish this unacclimatised English runner. I passed the 10k point at around 53mins and still feeling strong I knew I had a good chance of breaking the 75 minute mark. The final few kilometres passed quickly and before I knew it I was at the turnaround point and heading towards the finish line. Finishing in an unofficial time of 1:14:36 I have to say I'm pretty pleased with myself. I'd made it in under the magical 75 minutes, justifying my initial optimism, and more importantly really enjoyed the run. I definitely felt much stronger than I thought I would, which gives me confidence to push on from here in my running.
All in all I'd have to say Melbourne got it right – it isn't cheap to enter (compared to UK races) and they don't really do the goody bag/free t-shirt thing here, but the organisation was pretty good and it was great to see so many people turning out for the first running of this race. Plus there's not many races where you can cool off with a post-race dip in the bay if you're feeling brave! I'm sure the city2sea will grow in numbers over the coming years and I'm certainly looking forward improving on my time in 2012.
Next week Parkrun comes to Melbourne – I've been spreading the word amongst my fellow runners so hopefully I'll be able to report on another good Melbourne first. In the meantime I'll leave you with a few things I've noticed about running in Australia:
All runs and races are calculated in kms, definitely a nice feeling when the distance markers can be ticked off more frequently
There doesn't seem to be as many club runners, not sure whether this is because running is a more individual thing here or just that people don't wear their club vest?
Support out on course is a little bit muted (noticed this whilst watching the marathon too) – lots of people watching but not so much cheering until you get near the finish. Need to teach the Aussies some of the BvH cheer!
Teal is the IN colour this season, the Bournville vest definitely looked very on-trend 🙂