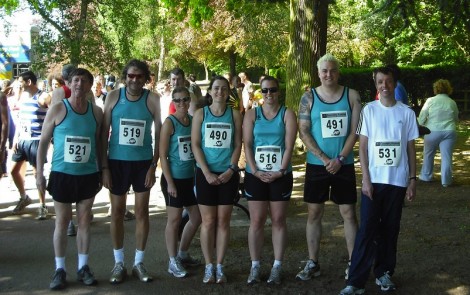 Rachel Ward reports:A number of weeks ago Laura mentioned to me a lovely run through a park that she had raced the previous year, it was local, cheap and only 5 miles, did I fancy it?
After much deliberation and not much running, I finally agreed on Saturday morning at XC training that I would tag along with her and Paul. We even managed to talk Julie into coming along and making a ladies team. Monday morning came and so too did a car full of supporters. Driving over Laura was starting to put me off…its 3 laps (I really dislike laps)…not very many people run it (great, I was going to be last)…we have lots of support from Linda, Gareth and Matt how great is that she said (no, they can take pictures!). You get the idea!
After registering we bumped into Martin and Barrie who were running too, so at the thought that the ladies had a team and the men didn't, Gareth decided to 'race' too (after his 10 mile run in the morning) and make a men's team.
We started and it seemed lovely, until that is you rounded a corner and was hit by the wind as you went up a hill (a flat course Laura had told me!!), followed by another wind trap and then another hill!! To be fair, the hills were not really hills, more like inclines compared to our XC training and the park was very pretty and the laps were not too bad either, at least it meant our supporters saw us lots.
The course was 2 large laps and 1 small, and I'm rather ashamed to admit it that the leaders came past me on that last lap, the only saving grace was that Gareth didn't, and the top 3 runners were African and ran for Birchfield! The support from Linda and Matt and also Katie and Marie was very much appreciated by us all, thank you.
After a number of PB's in not the best of conditions, the highlight of the day was the prize giving – Laura was second lady and Julie first W35 home so BVH scooped some much deserved prizes!!!
Try as we might, we didn't manage to bag the team prizes, but there is always next year…
Gareth Cadd 34.52
Laura Leslie 35.07
Julie Delahaye-Slater 35.55
Paul Gorman 36.28
Martin Foster 37.45
Rachel Ward 40.28
Barrie Roberts 41.58