From Stacey Marston: The MFRC Corporate 5 was a 5 mile race last year (and I think for its history before this year); a decent crowd of National Grid runners took part then and I came away with a 5 mile PB and a determination that we'd enter again this year and maybe try for the women's team prize. 12 months on and there was a change to kilometres for the 35th running of the event in the Masseys' 40th Anniversary year. The event takes part in Coventry's War Memorial park, a few miles from the 'Grid' offices in Warwick where I work. As you can probably guess from the name it's predominantly aimed at corporate teams, perhaps owing to MFRC's heritage as the running club of a major employer in the area. The top three runners' added times decide the prizes for a mixed team, women's team and men's team and, whilst individual runners can enter, there are no prizes for doing so, just the kudos of having your name read out if you're the first finisher. There's also a prize for the company fielding the most runners.
It's a really friendly, well-organised race with very welcoming marshals and a lovely medal. A lot of the runners were from MFRC but there was also a good number of non-club runners and most of the bigger corporate teams (including our National Grid team) had vests printed for the occasion. It's a bit odd for me racing in anything other than teal but it was nice to still be part of a team.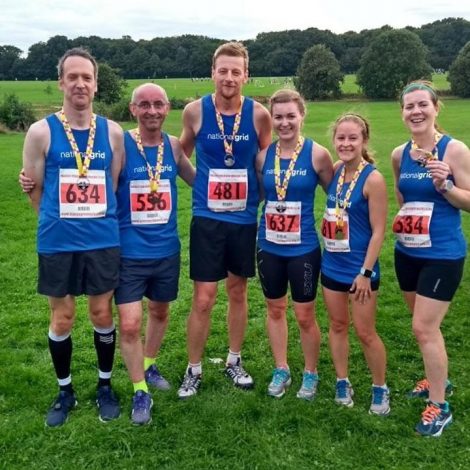 With (L to R) John, Terry, Lee, Helene and Courtney from National Grid
'm not going to go on about my injury and illness woes but suffice to say my running hasn't been going too well of late and I was really doubting whether a 5k race was a good idea. I took my kit to work with me though and thought I'd see whether I was 'required'. As it turned out we had a full complement for the Men's team but Courtney and Helene needed a third to make up a full Women's team. The three of us were the fastest of the Grid women last year and in the meantime Helene's running has gone from strength to strength and with Courtney (who, whilst deep in marathon training, is still a strong force over 5k) as good club runners they were certainly in with a strong chance of a win. I thought it was a real shame I wasn't in PB shape as the motivation of running in a team event always gets a bit extra out of me.
There was certainly no pressure on me to take part but I wanted to at least make sure we had a full team and I think I was pretty convincing (maybe) when I promised my colleagues who were worrying about how ill I looked and felt that I wasn't going to really push myself…
I lined up relatively ambitiously to gain any extra available seconds (cumulative time, not position in mind!) and then dug in and waited for everyone to pass me and/or for the wheels to come off! The course itself is one short lap and one long lap with the start and finish by the visitors centre. It's a different course to the parkrun but as anyone who has raced there will know it's quite a large park with plenty going on around you; adventure playgrounds, skateboarders, dog walkers and the faint whiff of illicit substances from time to time. It's not especially hilly but there are a couple of cheeky inclines and there's a bit around 3.5k that feels deceptively close to the finish because you can see the visitors centre, so the last mile is psychologically tough.
It feels like a long time since I ran a 5k at that kind pace and although my time of 25:40 is a long way off my PB I was pleased with a respectable finishing time in the top half of the field and I could even see how a few weeks of consistent training might have me back under 25 minutes at least. I knew I was going to be the last of the Grid runners to finish but I focussed on the positives that I didn't walk, wasn't sick and worked hard throughout. Also, looking on the bright side, being the only BvHer there also gives me a chance to write this race report and tick a box on my BvH Bingo card.
At the finish I hung around having photos with the others and being gently mocked for my matching rucksack, phone case, purse and headband (all in Teal of course!) As Courtney was third female finisher we thought it was worth sticking around for the prizes and given the size of the field I knew we had to have some chance of winning a team prize. Even so when they announced our names as the winning women's team it was like an out of body experience and I think my manners went out of the window; I was so excited to collect a shield and bottle of wine I don't think I even thanked the organisers (though I'm sure I didn't elbow anyone in my surge through the crowd, honest!)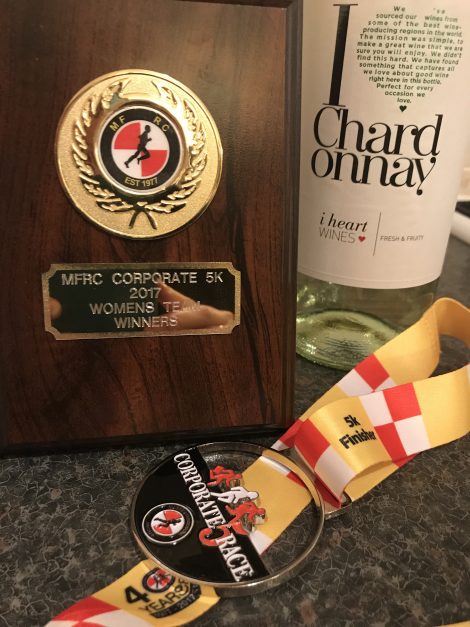 So yet again I have proved that even pretty average runners like me can occasionally get their hands on a bit of bling for the mantelpiece! (With a good team in front of you anything is possible). I'll definitely be back next year hopefully in better shape for another crack at this race.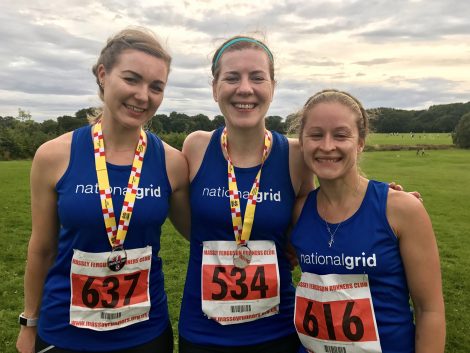 With Helene (left) and Courtney (right)