Rhein Ruhr Marathon – 12th June 2022. Race report by Steve Doswell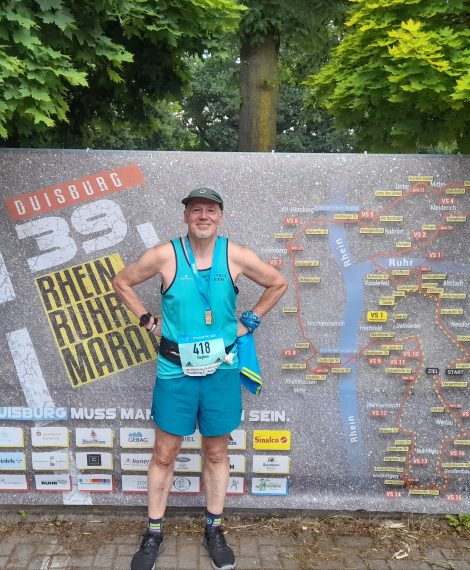 It was my birthday on 9 June and three days later I ran a marathon. I'd realised months ago that moving to a new age category might give me a chance at the BvH club M65 marathon record. I also knew that I might not be able to hang on to it for long: there are faster soon-to-be M65 runners than me with birthdays coming up (hello, Pete Hickman!) so I'd need to get my record attempt in quickly and then enjoy it while I could. I did a trawl around the fixture list for marathons.
Friends at BvH know I'm prepared to cross a lot of borders to run a marathon. I've run the full 42.195 km in Slovenia three times, while last autumn the DreiLänder marathon took me from Germany through Austria into Switzerland, finishing back in Austria – three countries, one marathon.
So when I found one in Duisburg, Germany on 12 June it was an easy decision.
Duisburg is a big city just north of Cologne and Düsseldorf. It's where the Rhine meets the Ruhr, two famous rivers in Germany's industrial heartland. It's also a port city (the world's biggest inland port, in fact), which is surprising as it's about 150 miles inland! The marathon course would take in the city, the docks and cross both rivers twice. It looked exactly what I wanted. Reinhard, an old friend who lives nearby was very happy to host me during my visit. I registered for the 39th edition of the Rhein Ruhr Marathon and booked my flights from Birmingham. I just needed to turn 65, celebrate my birthday, buy some whisky for Reinhard and pack my kit!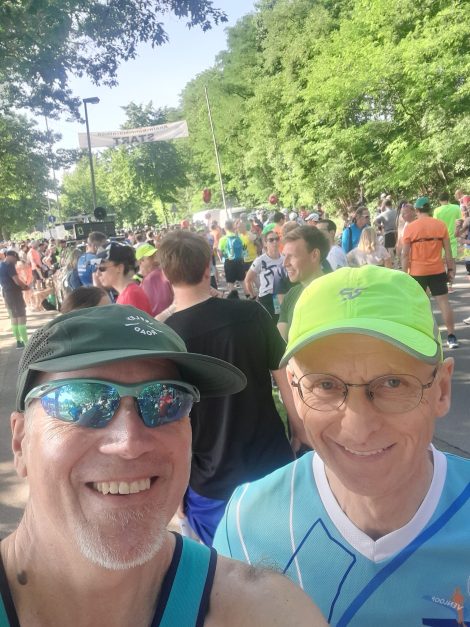 I began marathon morning with bleary eyes. Up at 6.30 (5.30 UK time – my body clock struggled with the hour's time difference) but I'd been awake for ages, fearing that I'd sleep through the alarm and miss out on the marathon (FOMA and FOMO combined!). Reinhard's friend Wolf would also be running. We were in different leagues in terms of 42km experience, though. He'd already run as many marathons as I'd had birthdays while this would merely be my 12th. We'd gone to the race HQ in Duisburg's football stadium to collect our race packs the day before and this morning he'd be taking me the short distance from his house to the start. We were parked by 7.45 and in the start area before 8 for an 8.30 start. It was so early there were no queues for the portaloos – unheard of! Runners were arriving all the time, the wheelchair racers were already in place with the inline skate marathoners just behind them, then us, the 42km road racers. The half-marathoners would start later. It was warm and sunny with a gentle breeze, there was music and a good buzz as we waited – and waited. It got warmer. The tannoy periodically updated us on the growing delay as attempts were made around the city to clear cars off the course. Finally, at 9.30am, an hour late and by this point a couple of degrees warmer still, we were off.

I started just behind the four-hour pacer but I knew that I wouldn't be part of his merry band of sub-4 wannabees by the end. I'd run 4:14, 4:07 and 4:12 marathons last year and my training felt as though I'd finish round about that kind of time here in Duisburg. In fact my training had really been configured for a spring marathon, my longest pre-marathon distance had been the Ashby 20 miler in March and by this point in mid-June I was probably a little slower than at my modest peak. But the current BvH club M65 record stood at 4:42 and that was my target. I always say I have three targets for each marathon: bronze – simply to finish, uninjured; silver – sub 4:10; gold – sub-4 (my PB is 4:00:05 – just five seconds off. It still hurts…) Bronze will always be the same – every marathoner wants to finish and no-one wants to get injured. But today I only had one other target and that was the club record. If I'm honest, there was another motive and that was to stick two fingers up to the idea of 65 being 'the retirement age', the end of one's active years. Retirement?! As if…! I've only just got started! So with these various sentiments in mind I headed out, proudly wearing the teal, onto the streets of Duisburg.

Before long we were crossing the first bridge over the Ruhr, and into an area of offices and warehouses. A few turns later and I started to see the top of a major bridge above the surrounding buildings. I felt a thrill of anticipation, guessing that we were going to cross it. And so we did, over one of Europe's great rivers, the mighty Rhine. Once over the other side we were running through the heavy infrastructure of the port, past lines of container lorries, dockside cranes, warehouses and holding bays for a couple of km. And then suddenly all that was behind us. Within a matter of metres we left the port behind and found ourselves in a pleasant, tree-lined suburban street of low-rise apartments, houses, shops and bars. Duisburg has an image of an industrial city but, just as with Birmingham, there are plenty of leafy parts and many of these were on the marathon route.

The support around the course was magnificent. It felt as if the whole city had come out to watch and cheer us on. There were samba drummers at several points, mostly local community bands, a uniformed brass band and a group of African drummers. Families were out on the street handing out sweets and drinks. Some had water hoses outside their houses offering very welcome shower-sprays to over-heating runners. I took several! The organisation was superb, the signage clear, marshals at every junction and water stations at every 4km with isotonic, cola (rather warm in the heat but fast-acting as an energy booster) and chopped bananas available at other points.

As I get deeper into a marathon I always motivate myself by focusing on how far I've already come and don't dwell on the distance remaining. I was 15km in, geeing myself up that I'd run over a third of the course already. By this point the runners were increasingly strung out with widening gaps between us. Then came one of my personal highlights. I entered a short pedestrianised shopping street. On one side was a pub, its perimeter marked by a line of standing tables, each surrounded by people enjoying a few drinks before lunch. As I approached they began to clap and cheer, shouting words of encouragement. There were no other runners. This was for me! I was really boosted.

Soon after, at the 21km midpoint, a race official with a mic and speaker announced the names of runners as they passed. I heard "Und jetzt wir haben… ('And now we have…') Shteffen Doss-vell!!!" Another boost. It all helped.

The suburbs passed, the well-wishing continued. A short stretch of countryside followed. I was hot and feeling the toll of the rising kilometre count. Now I stopped at every drinks station and walked the few steps it took to down the water, isotonic or cola, and the remains of my stash of jelly babies (I don't do gels) before picking up the pace again.
The course turned and suddenly I was out on the foot of a long bridge. This was the Solidarity Bridge, almost half a mile long in its entirety, with an impressive single-span arch in the middle and a gentle but steady incline to its highest point over the Rhine. It wasn't very high but it was still a climb, one of very few on a mostly flat course. Before I reached the water's edge I looked down to see horses grazing on the water meadows below. Everywhere I looked there were more. I lost count at 30 (it's amazing what your mind will do at 26km into a marathon to stop thinking about the heat, the exertion and the remaining 16 km still to run. So, yes, I counted horses).

Eventually there were 'only' 10km to go – two parkruns. I stopped for another cola rush and at this point the 4:15 pacer group passed me. I followed in pursuit but gradually the gap widened. I didn't stress. They weren't my target. I counted down the km markers as these climbed into the higher 30s – 36… 37… 38… less than a parkrun left now. In my mind I pictured where I'd be by this point on a Saturday morning at Cannon Hill Park, already passing the Mac, heading out to the triangle… 39… 40… I saw signs to the football stadium, part of large, leafy district of sports venues spread-out south of the city centre… 41… I could hear music. People were clapping. It was all a hot, sweaty blur. But now I was smiling. I couldn't stop smiling. Here was the stadium. A right turn under the entrance tunnel, into the arena and onto the pitchside track. The tannoy was blaring. There was the arch. I just had to run around the pitch perimeter to reach it. I'd come this far, I could do that. Turn once… turn twice and then the arch is now looming above me with its magic message: ZIEL, a large, gorgeous four-letter word meaning that it was over and I could stop running. I pressed stop on my Garmin and looked at the time: 4:17:05 (official time was three seconds faster). Slower than I'd originally hoped but comfortably within the club M65 record time. I was delighted – exhausted, unsteady, parched but beaming.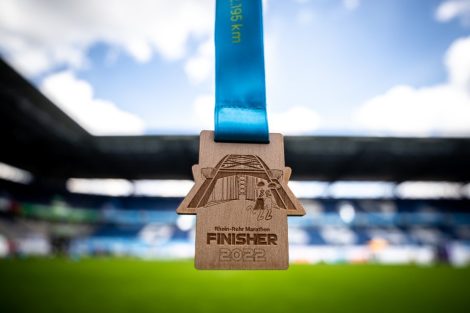 My 12th marathon (and sixth in two years), a great day, no ill effects, targets achieved. A race volunteer handed me a rather modest wooden medal etched with the Rhein Ruhr marathon motif: the Solidarity bridge with the number 39 dressed in running gear. At that moment I almost laughed, imagining Jude looking distinctly underwhelmed had she been there instead – after 42km Mrs Glynn would expect a bigger medal with a bit of heft!).

Outside the stadium I collected my finishers' t-shirt, drank a beer, took some pictures and waited for Wolf. Just when I thought that maybe he'd somehow slipped past me, he appeared. The heat had got to him, too, and he'd slowed right down to compensate, and so achieved his own bronze target.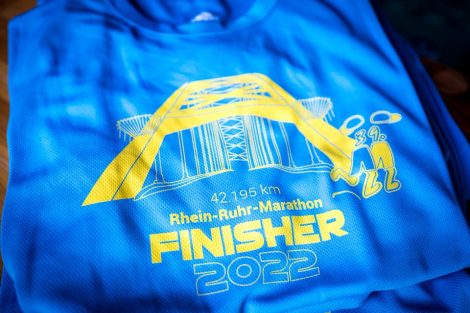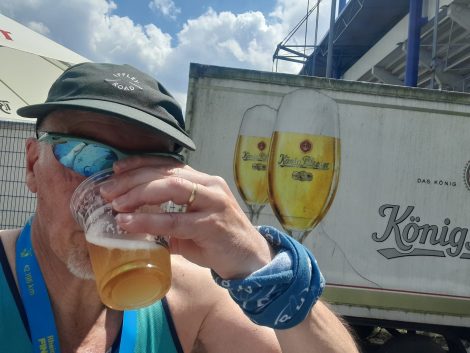 I knew I'd have no problem sleeping – or eating, or drinking. One final bonus: the runner's post-run high, that feeling of absolute peace, of calm exhilaration and a sense that nothing can get to you. It can last for hours after a 10K. Run a marathon, though and it can stay with you for days. I'm still buzzing now…