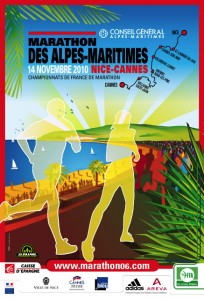 Duncan Ross reports: For my last outing as a Bournville Harrier I decided to go out on a limb, and took the opportunity to go for the scarily titled Marathon des Alpes Maritimes in Southern France. .
The good news for runners, is that it's actually a pretty flat course, from Nice along the coast to Cannes, with only one brief climb at 28km. As such it's good for pbs, which was great for me – taking over 15 minutes of my previous best.
On the positive side: lovely views, weather, a flat course, plenty of space (about 11 000 runners – only two minutes for the back of the pack to cross the start line), great support in Nice and Cannes, lots of hotels in Nice, and an opportunity to learn what the French for "Oouff!" is.
There are water stations approximately every 5km, with fruit, and near the end they even offered cola! The T-shirt is a technical shirt, with a pretty cool design – I'll certainly be wearing mine again!
On the negative side: It's quite expensive, and you need to provide a medical certificate – although I was able to get my GP to sign one that I downloaded for free. At times the support was thin on the ground. And for those of you who like jazz bands, there was only one for the whole marathon.
I'm seriously considering next year, with a target of 4h 15… after my 4h 25 this time! Until then I'll see you at the Ashby 20.