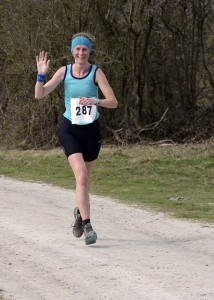 Our roving reporter, Lesley Pymm, reports from Eastnor where Laura Gale – fresh from the long leg in the A team at the relays yesterday – blasted ahead of the field to be 2nd Senior Woman in this hilly, off road 7 mile event in the Malverns.
Personally, I was a little bit stiff after yesterday and took a while to get into the event.  I have done it before, but the course was different this time.  We started by going off away from the first hill that had been pointed out and into a headwind.  Oh, what joy.  We went around the field and then eventually started to climb.  It wasn't that bad really, but I did feel pretty stiff from the relays and as I saw that a friend who I usually have a bit of a race with had got away, I decided to just settle into it and enjoy the run.
At the top of the hill we turned and ran along a ridge for a while.  This was on stoney tracks and was pretty easy running.  There were some muddy bits and I was running with a group of women who were obviously not used to off road and spent a bit of time messing about in the mud, well – trying to avoid it, and shrieking!  I got pretty muddy as I went through the middle of them!
It was all very pretty, with some good views at times.  Although it had been very windy and cold at the start, it soon warmed up and was more protected in the woody areas.  We must have gone downhill at some point as we started to climb again and I could see the dreaded obelisk ahead of me.  At this point I also saw my friend – she was not that far ahead.  I wonder if I could catch her.
Running past the obelisk, Mike was there getting very blown around but managed to get some photos.  Then we went downhill through a lovely woody section and climbed back up almost to the obelisk again before turning right.  At that section my friend turned and looked to her right and saw me – huh!!!  The finish was downhill from there and I could not get her.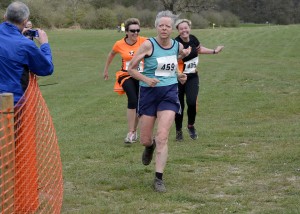 We charged down the track and then off to the left before turning and running around a field and then onto the finishing straight.
There were engraved glasses with water in them and doughnuts waiting at the end.  Then it was the presentations where Laura collected her award.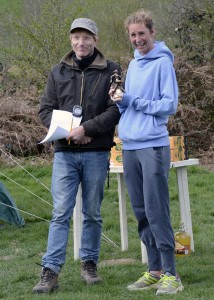 Mike and I then headed off to British Camp for something to eat, a walk up the Malverns and then some boozy ice-cream.  A good day!