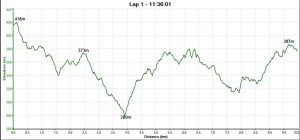 Lesley Pymm reports:  I did this race for the first time last year and loved it.  Everyone was so friendly.  I had a flare up of my arthritis and had taken 46 minutes to hobble round Perry Hall parkrun the day before, but had felt a lot better as the day wore on, so decided to go and see if they would let me run/walk it.  They were so lovely and, in the event, I managed to jog around and was not last!  I wanted to go back and have another go in better condition.  We camped close by the night before and the rain started at about 1.00 and was relentless.  However, it stopped about an hour before the race started – which was just as well as parking is about 600 meters from the registration and then there is another 400m or so uphill to the actual start.
The 'roundabout' is a small copse surrounded by a wall on the top of a hill at the Begwyns, National Trust land near to Hay-on-Wye.  Good warm up!  There was a bit of a delay with the start, but eventually we were off – downhill.  The ground was a bit sloshy and it was good fun.  There was then a little incline and then we were going up again. This time it was a stoney track then then down again and on to another track which was gently uphill and we were eventually turned off to start climbing a steeper hill.  Over a stream and then there was a bit more of a climb before going downhill again to the mid way point and the drink station.
I got a second wind at this point and started to overtake people.  It was pretty undulating, but I really loved it.  There were skylarks and horses around and it was brilliant.  When I finished there was a technical T-shirt to celebrate the 10th running of the event.  Then cake! Presentations took place as quickly as possible after that, included were the first 3 dogs (with their people) and they had medals made of dog biscuits!  Great event even when the weather is less than perfect.