Guy Marston reports: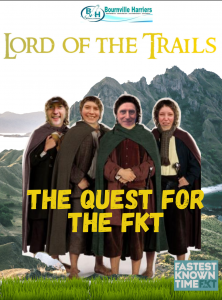 Cast
Simeon Whiting – Leader & Navigator from the village of Quinton
Lorna Al-Ani – A fleet footed maiden
Alison Price – A curious woodland creature
Guy Marston – A village elder of Wolverhamptonshire
Introduction
Our tale begins many moons ago as a curious plague beset the land… Actually it was mid March during Covid!
As with most adventures it all started with a casual chat, not over a beer this time! It was over messenger during lockdown, Simeon explained his plan to attempt the North Worcestershire Path FKT (fastest known time), he had already done a recce on a lot of the route and had entered the relevant details on to the appropriate website. At this point Simeon asked if any other fools (runners) would like to join him for this attempt, Lorna, Dave Ellis (running royalty and experienced navigator) and I expressed an interest and the plan was hatched. I was under the impression that my role was purely as running support crew along with Lorna and hopefully Dave who was battling a niggling injury. We arranged to meet for a briefing (beer) at Rowheath. At this stage Ali asked if she could join the attempt and was welcomed into team immediately (possibly driven by Xen's excellent 4x4x4 challenge), sadly Dave had to withdraw at this point as the injury wasn't improving quickly enough. Simeon, Lorna and I were able to attend the pre-challenge briefing where Simeon talked us through the whole route with meticulous detail and planning, he also very generously said he would be entering a team attempt and would not hear of it being his solo attempt with support. With a few details to complete for logistics we were ready to go.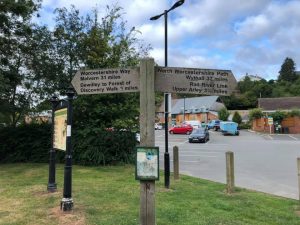 With no hesitation, the all round good egg Stacey Marston (brownie points) agreed to drive the team to the start in the Teal Mobile car and run the first couple of miles with us as Lorna had picked up a calf injury. This would allow Lorna to test her calf before disappearing too far into the trail. Lorna's husband Hayder agreed to meet us at 19 miles with drop bags and the full support crew Jo, Kelly, Stacey and Hayder would be at the end of the run with refreshments and lifts home (none of us fancied running back!)
Chapter 1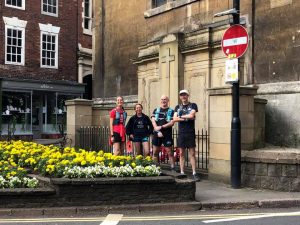 At 7.45 am (yes… I was awake at this time!) we parked the car in Bewdley and put on our carefully planned and packed race packs, bottles were full, gels and real food snacks ready at hand for three of us and Ali had a phone! We wandered down to the start which was by the church in the high street and as always with any run/race we decided a toilet was required. Soon found and utilised we were ready to go, one last picture and press start on the watch, we're off.
The route follows the river on well worn paths, a reasonably steady pace was set and we began to settle in, there wasn't too much conversation at this point as the trail was extremely narrow and I think people wanted to find their own rhythm. After approximately 1.5 miles Stacey turned back as Lorna's injury was not troubling her, we waved her off and continued to the bridge to cross over the river.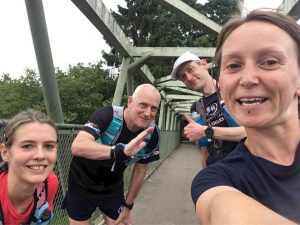 The path continued along the opposite side of the river and we made good progress, at this point Simeon informed us we were about to take a left turn to leave the river. With a combination of map, compass and gps watch tracking we headed into a steep climb on an overgrown path, it was about now I realised how high the nettles were and how short my shorts were… ouch! The next five minutes were spent going back and forth to try and pick up the trail, we eventually climbed a gate (with ease) and headed back towards the river to continue onwards. With the amazing job Simeon did of planning and plotting the route, I think this was the only slight detour we had all day.
We pushed on towards Kingswood Country Park and Kinver Edge, we were all feeling the heat as it was a warm muggy day and marvelled at Ali's ability to run on nothing. As she did loops of the hills jokingly pushing her mileage up for the 4x4x4 we decided she must run on fairy dust!
The scenery is stunning on the trail and it was completely deserted, I was personally feeling the pace a little at this stage and as always, I was concerned about holding people up. Once again it was stated we are on an adventure and not putting ourselves under pressure (just as well when you look at the calibre of runners I was with). The path began to emerge from wooded areas into rolling farmland as we headed towards the Clent Hills. Most of us had started to take on some nutrition as we walked the steeper climbs, Simeon reached into his short pocket for a handful of jelly beans only to discover the bag had split and he was snacking on the beautifully titled "sweaty bum beans" (these will appear later in our saga).
Passing the village of Caunsall and crossing the Stourbridge Road we continued on well marked paths, we found the route was easy to follow throughout although it was useful having a compass and gpx file on my watch, just to be sure of direction of travel. You really don't need any extra miles.
One of the many highlights for me during the day was a sudden realisation of where I was as we emerged from woods or crossed roads; my sense of direction is awful. Sense of direction did crop up later in the run as we crossed the Hollywood and Wythall 5&10k course (no naming and shaming… yet!)
Another highlight would be Simeon descending a climb in the style of Julie Andrews in 'The Sound of Music', only missed by Lorna's camera by a matter of seconds.
I think we were all looking forward to a lunch stop at this stage as we headed over the Kidderminster Road towards our rendezvous point at the Lyttleton Arms. We all straightened up and displayed our best running form as we ran into the lunch stop where Hayder was waiting for us (and had been for an hour and a half, oops!) Bags of food appeared and were consumed with varying degrees of enthusiasm; I struggle taking nutrition on board during ultras but am fully aware of the importance. For me it was another opportunity to test strategies with my main event being later in the year. Marmite sandwich (a La Race to the Tower) and potatoes along with another litre of fluids; it was hot. The team rested for probably 20 minutes before posing for a pit stop picture and heading out again. Poor Hayder was largely ignored as we all seemed very focused at this stage.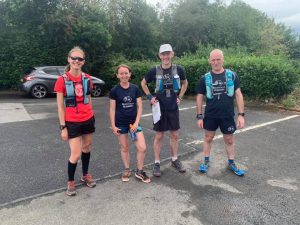 Chapter 2
We ran/walked for a couple of miles to allow our food to settle and Simeon informed us we were heading into the toughest section for the next four or five miles, again this was for me a useful training exercise to work on mental toughness for future challenges. I'm not really much of a reader but do a lot of running research on YouTube, so put into practice all the advice I'd picked up, run the mile you are in, focus on what you have completed not what's still left to go and basically suck it up, keep moving forward, you signed up for it.
The climbs became quite steep but the reward was with the views as they were spectacular and it felt nice to be on sort of home soil. Our attention turned to the Waseley Hills and reminiscing about races, Waseley Wobbler & Stourbridge Stagger, we joked about working out the amount of these hills we had all covered and thought we would need a running guru who would know every race (Jude Glynn, your name was mentioned). The Waseley Wobbler was the first race Lorna ran for BvH, it was also the race I named her the silent assassin as she sweeps past you with effortless style.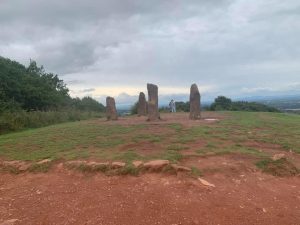 Whether it was the advice that kept my mind busy or the boost from the food stop the miles ticked by and I really enjoyed this section, oh and the dazzling company of course.
Crossing the A38 we headed for Beacon Hill and then a lovely downhill section towards the Lickeys Visitor Centre, "that's the last hill" exclaimed Simeon, a fact I questioned several times later as we ascended.
Onwards our intrepid team continued through farmland with an incredible amount of stiles, going back to our slight detour at mile five-ish and how we eagerly clambered over the gate… at this point there was neither clambering or eagerness but lots of chuntering from me. We emerged in another "oh, I know where we are" moment by the Peacock Inn, home of the Killer Mile (Jude would have got that one). Checking the watch countdown it was showing 3.7 miles to go – happy days! We crossed Middle Lane heading in the direction of the bypass, BvH runners will know Middle Lane from the Hollywood and Wythall 5k or 10k, some runners know it really well as they chose to run it twice on a 5k race (couldn't resist Pete, sorry) this of course was not spoken about during our challenge.
On and on we pushed over more stiles with more chuntering, through fields of horses. We all admired their majestic beauty but confessed to being a little wary of them (big buggers aren't they?!) Check the watch, What 3.8 to go!? Forget it, just run and take in the fabulous feeling of a job almost done. We were all in good spirits, no injuries, Ali was still racing around fuelled by fairy dust, Lorna was still gliding along with no calf niggles and team captain Simeon led the way still carrying his trusty map. All of a sudden, the shout went up from Simeon "That's a cowbell"! You have no idea how fantastic it is to hear that, knowing it's the crew waiting for you… we crossed a small bridge up a slight incline to reach the fence and it was done. Watches stopped.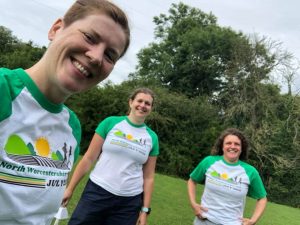 Chapter 3
Jo, Stacey and Kelly were there sporting brilliant tee shirts, especially made for us and this challenge. Chairs were provided and picnic rugs to allow us to finally relax. Hayder joined us at this stage as we were offered ice cold Erdinger (it's isotonic you know). The support crew seemed happier about our achievements than we did, but I think it just took a little time to sink in. The tales from the trails started and Jo helped herself to a handful of Simeon's jelly beans (eeewwww sweaty bum beans!) We all thanked Simeon for sharing an amazing experience with us and for including us in the official record. Thanks was also given to Hayder, probably the first time we had spoken to him all day and Kelly for being there to welcome Ali home. Stak and Jo really enjoyed the opportunity to get to know Kelly too; that's what these adventures are really all about, team work and camaraderie and of course the amazing support and tee shirts.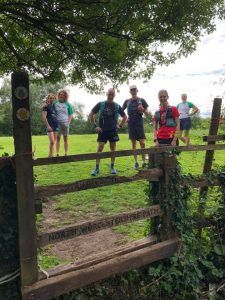 Chapter 4
On the 27th July at 20:20 the message came through from team leader Simeon; it was official, we had set the Fastest Known Time for the North Worcestershire Path! It was a very bizarre feeling to be honest, I was far more excited about it than a man of my mature years should be, but hey, it was hard work, so why not enjoy the victory spoils? I'm not sure Stak felt the same way after a couple of days of me singing Roy Castle's "Record Breakers" (you need to be a certain age). Most pleasing of all was for Simeon to have led the whole adventure, one he had worked so hard in planning, running and achieving. I'm sure I speak for the rest of the team when I say it was an absolute pleasure to be part of such an exciting adventure and setting an official record was the icing on the cake.