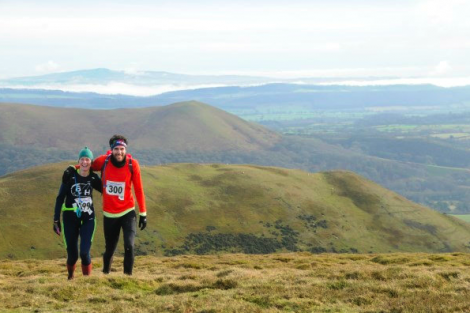 Laura Gale Reports: I love off-road running, and Adam and I are building up to another Endurancelife coastal trail half marathon, so this fairly local longish off-road race appealed to us. The race details on Mercia Fell Runners website were out of date, so I contacted the organiser for clarification. There are 10 checkpoints on the run that you need to plot on a map with grid references, and I wanted to make sure I was plotting the right places. After a couple of back and forths, the outcome was that the organiser didn't want us to run the race… He said that the race "was really rather hard", and that it had been featured in the book 'Feet in the Clouds' dontchaknow! Hmmm, I've podium'd at Man Versus Horse, I'm bloomin' BvH Athlete of the Year
(2015), and I'm going to run this fell race.
Pre-race preparation the night before took the form of cycling to Redditch for a Turkish meal and then a beer and rock music festival…
On the drive to Shropshire the next morning it was very foggy, but as we got closer the weather changed and a stunning temperature inversion appeared. The parking area for the race was full of mainly sinewy men wearing the obligatory goose down quilted jackets. Their faces were creased, ruddy and weather worn, and my smiles were not being returned. I heard one runner saying that he was disappointed that the sun was coming out as he had been wishing for bad weather so that he could get a better time.
Registration was behind the National Trust cafe in Carding Mill Valley. Their were lots of notices about having to carry full FRA kit. NO KIT NO RUN. I've learnt from the best (Lesley Pymm) about fell running kit requirements, so was well prepared: full waterproof body cover (with taped seams), map, compass, whistle, hat, gloves, emergency food (a pork pie). I think we signed a lengthy disclaimer, picked up our numbers and were ready to run.  Haha race organiser – you cannot stop us now!!!!
200 runners charged up a short section on the road, and then we turned quickly off and onto the first super steep hill. A fell race is not all about running (unless you are at the front I think), it is also about walking. Some of the gradients are so severe that even walking is virtually impossible. We ran past a golf course with amazing views over the hills around Church Stretton and saw some small wild ponies. Our first downhill came pretty quickly too. It was soft and peaty underfoot and a killer on your ankles. People were falling and slipping everywhere. Lichen is definitely in season at the moment, as entire hill sides were covered in the pale fluffy stuff. I had quite a few close-ups views of the ground and the lichen….
As long as you went to each of the checkpoints you were free to pick your own route over the hills. The group was strung out quite quickly, and it was fun spotting the more maverick runners heading off in different directions in the distance. I had my eyes on the yellow Mercia vests. They train on these hills, and local knowledge was definitely an advantage. Some of the early uphills were in narrow steep sided gullies where you were forced to run in the streams. Adam's smug Gortex Speedcross were soon compromised. It was great to
finally be up on the clear wide Mynd ridge path – there was snow up there, and just the most spectacular views. Don't get too comfortable though, we then turned off into dense heather – high knees for ages to
stop your legs and feet from getting caught up. Then down into a valley full of thick mist not unlike like The Charge of the Light Brigade. There was a checkpoint somewhere in the bottom of it, and luckily someone running near us got their compass out to double check our direction. Roughly half way round the route was a checkpoint that you needed to reach before a cut off time. We had been running really
hard where we could, but we still only reached this point with just 7 minutes to spare.
The final section of the race was the hardest with 3 extreme climbs followed by unforgiving downhills. Most people were on all 4s as the hills were so steep you needed to use your hands to pull yourself up. I chuckled a bit when some dude whipped out his extendable walking poles, but it was a shrewd move. I was mainlining
my jelly beans here and tried to raise a grimace for a photographer by a cairn. Finally I spotted a reservoir that we have swum in a few times, and knew that it was not far from the car park. By this point I was pretty delirious and was chanting "soup and a roll, soup and a roll…" over and over.
It felt brilliant to finish, and it was great running a race with Adam. I hope my delirium, babble and uncharacteristic expletives have not put him off for future races. There was indeed soup and a roll, National Trust soup and a roll in fact. It was the thickest, tastiest mushroom soup ever.
The checkpoint marshals were excellent, and the enforced strict kit rules are vital for this terrain. Had the weather been different with less visibility there is no way we would have made it to the cut off point on time. You need to be a confident map reader, and have studied the map and visualised the course beforehand, especially if you don't know the hills. The location, scenery, weather and atmosphere made this an amazing race. The organiser could have been more encouraging, but unfortunately his efforts of trying to put us off backfired, as it made us even more determined to run! #thisgirlcan
This was indeed a "really rather hard" race, and it brought me down a peg or two. 18.5km with 1370m of ascent. Fell runners are a different breed. They are carved from the rock they run on and are at one with
the elements, whereas I am more of a florescent lycra Selly Park hewn runner who likes a few hills.
Laura Gale 2hrs 58mins 25secs
Adam Hill 2hrs 58mins 26secs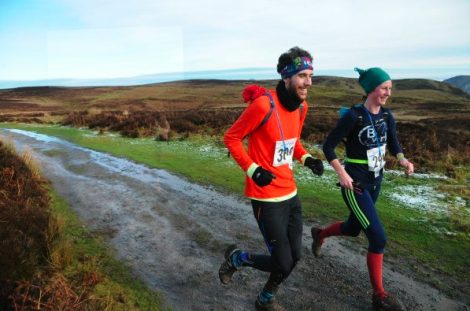 http://www.merciafellrunners.org.uk/node/2872