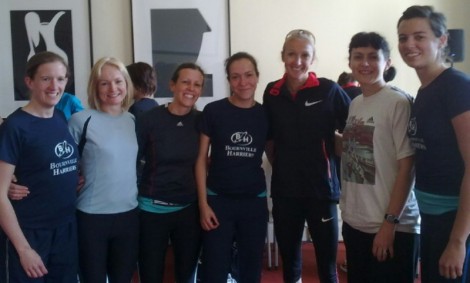 BvH had both Ladies and Men's teams at the London 10km race which was staged on the proposed marathon course for the olympics in 2012.
There were some fine perfromances from BvH runners on a course which was flat but challenging and in some very warm conditions.
Mel James was first home for BvH in the Ladies race in 38:21 followed by Linda Howell in a new SF club age best of 38:58 and Caroline Harlan-Marks running under 40 minutes for the first time in 39:46.  Other great performances from Sara Roberts (43:36) Laura Leslie (45:40) and Michaela Thompson (49:46).
BvH Men ran some solid performances with Dean Parker leading the challenge (34:42) followed by Gareth Cadd, Sean Rose, Rob Andrew (suffering with an achillies injury), Chris Harlan-Marks and Paul 'Hulk Hogan' Gorman.
Report from Caroline Harlan-Marks: I hadn't even heard of the Bupa London 10,000 (2011 UKA 10k Championships) until Joe Lewis casually suggested I try and put together a ladies team to compete in the event. One month and about 427 emails later, Mel, Linda, Michaela, Laura Leslie, Sara Roberts and I headed down to London with various supporters in tow to compete alongside the best distance runners in the country.
Clearly, BvH ladies know how to travel in style, as most of us arrived on the Sunday night to find that we had booked into a hotel so exclusive that none of the so-called "elite" athletes had managed to get a room there. (Covent Garden Travelodge).
On the morning of the race we were all a little tired and weary, having not had the best night's sleep, but we headed off to find the "Championship Runners' Changing Area". I think we all must have secretly been expecting the "Championship Runners' Changing Area" to be a tent and a couple of porta-loos in a muddy field, but we were a bit shocked to find ourselves in a very posh building, complete with bouncers and (gasp) REAL toilets, with soap… and handcream!
We wandered upstairs to the ladies changing room and nearly bumped right into Paula Radcliffe. Laura, in a moment of extreme bravery, waltzed right up to Paula and invited her to take part in our BvH Ladies team photo. She consented and we were all very pleased, though we obviously remained very calm and collected. (She's now considering joining as second-claim member…) The strangeness continued outside where all of the Championship athletes were warming up in the same very small area, including Paula Radcliffe, Jo Pavey, Mo Farah, and Andrew Lemoncello.
After that, we had the minor issue of the race itself to contend with. The course was relatively flat, though not quite as flat as I had expected, and very windy in places. The weather was actually ideal for racing when we first arrived at the changing facility, but the air gradually got warmer as we warmed up and the sun came out, so we were all worryingly hot by the time we were lining up to start. There was lots of support throughout the whole course, and the crowds were very enthusiastic – a bit off-putting to me at times, as I haven't done many races like that, but very impressive nonetheless.
Overall, I think we all found the race challenging, both mentally and physically, due to the conditions and the pressure/excitement that stemmed from changing and warming up with and then lining up right next to athletes we'd previously only seen on telly. (The pressure of being an honorary BvH team member must have gotten to Paula too, as she apparently had a "disaster" of a race). Not everyone was pleased with their finishing times, but as far as I could tell everyone ran really hard and deserves to proud of the performances that they put in on a warm, windy day that saw Mo Farah run 90 seconds slower than last year.
Special mentions should go to Michaela Thompson and Linda 'I-just-sat-on-Paula's-toilet' Howell, both of whom achieved their ambitious pre-race time-goals. In the end, our team finished 11th out of the 21 UK Ladies 10k Championship teams.
Many thanks to Rob for all of his help prior to the race, as I've never been responsible for putting a team together before, and thanks to everyone who travelled down to support on the day. Lastly, thanks to all of the ladies who ran for the time, money, and effort they committed to this little trip. I had one of the best weekends I've had in ages, and I hope you all had fun too.
Sorry to anyone who missed it, as I somehow doubt the organisers will be too keen to invite the star-struck midlanders back next year… 😉
BvH Results
| | | | | | |
| --- | --- | --- | --- | --- | --- |
| Pos | Cat Pos | Gender Pos | Name | Time | Cat |
| 150 | 135 | 142 | Dean Parker | 34:42 | M35 |
| 169 | 150 | 157 | Gareth Cadd | 35:05 | SM |
| 180 | 9 | 166 | Sean Rose | 35:21 | M40 |
| 213 | 3 | 193 | Rob Andrew | 36:16 | M45 |
| 314 | 3 | 48 | Mel James | 38:21 | F45 |
| 349 | 49 | 55 | Linda Howell | 38:58 | SF |
| 415 | 61 | 68 | Caroline Harlan-Marks | 39:46 | SF |
| 495 | 344 | 413 | Chris Harlan-Marks | 40:53 | SM |
| 761 | 100 | 123 | Sara Roberts | 43:36 | SF |
| 1055 | 134 | 165 | Laura Leslie | 45:40 | SF |
| 1261 | 806 | 1061 | Paul Gorman | 46:41 | SM |
| 1948 | 255 | 323 | Michaela Thompson | 49:46 | F35 |