Miriam Stevens reports: Last year I completed the Liverpool Spring 10k, it was two laps round the glorious Sefton Park in the sun and I couldn't wait to sign up again and drag Kevin with me! (Almost literally as this year we ran the entire course together until he sprinted off and finished a second ahead of me!).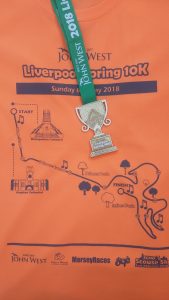 A sea of teal…did not await us as we approached the start line. Instead we were greeted with the black and white stripes of Penny Lane Striders, the claret and yellow of Mossley Hill Athletic Club and the several fancy-dress outfits which perhaps were an unwise choice on a hot Bank Holiday weekend!
This year the route had changed to incorporate the iconic cathedrals of Liverpool, starting at the Catholic Metropolitan cathedral (the affectionately named "wig-wam") and making its way past the Anglican Cathedral down into two parks of Liverpool. This included Princes Park and the larger Sefton Park. As soon as we entered Sefton Park the crowds were amazing. Lots of cheering and support, along with the usual drummers and musical acts. Loads of "come on Bournville!" cheers. The last 6K went by so quickly as we looped around the lakes in the park and past the famous Palm House – a Dome-shaped Victorian palm house situated in the centre of the park.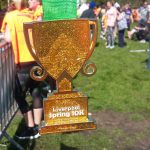 I strongly recommend this race, it is organised by couple Matt and Sam Davies and they put their heart and souls into ensuring the T-Shirts are amazing, and the medals are worth the run! This year the reward was a trophy style medal which stands up on your mantlepiece (or office desk!).
The thing I really love about the event is that it forms part of a weekend where there is a timed 5K and a Kids 1K. The timed 5K is a wonderful chance for newer runners to push themselves and get a feel for an official race. The event is chip timed, there are bands around the route and finishers are rewarded with a lovely medal and training t-shirt. When 5Ks are labelled as "fun runs" the terminology can often take away from how much of an amazing feat 5K is for any runner so Matt and Sam stay away from this. Last year two of my friends did their first 5Ks at this event and it gave them a massive sense of achievement, one went on to do a half marathon the next year.
 To conclude a good time was had by all (Kevin and me), amazing route, great medals and t-shirts, fabulous weather and a well organised and enjoyable run! We were very proud to represent teal in another city.
| | |
| --- | --- |
| Kevin Hogan | 1:01:00 |
| Miriam Stevens | 1:01:01 |