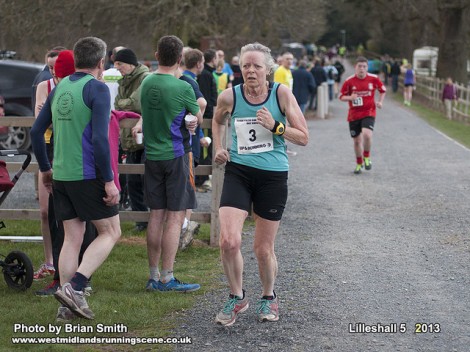 Lesley Pymm reports:  I have not run the Sexarathon for a number of years, but thought I would have a go this year.  This was, therefore, the first time that I have run the Lilleshall 5 as it is fairly new to the series.  It was held at the National Sports College in Lilleshall, so there were excellent facilities there.  We got there early (you can never be too sure about the M6 when going to evening races) and sat in the bar drinking coffee and keeping  warm.
Eventually I decided that I had better change and warm up – it was not inviting as it was so windy.  The start was some way away from the buildings, so going off to investigate that, running back to the car to sort myself out and then back to the start was a very reasonable warm up.
Off we went, following warnings that the  first section was very poor underfoot and that runners had gone over there last year.  We all took the first couple of hundred yards easy and I don't think there were any accidents.  The route went off along the drive, which was mainly downhill and then took a left through a country lane before going left again and onto a larger road and through a village.  The pub looked inviting! 
We  eventually got to the main gates of the National Sports Centre, and I remembered that when I used to do some work there years ago we reckoned that  the drive was a mile long.  As I turned into the drive the wind met me!  It was like running into a gale as the wind was funnelled down the drive – a mile of this!  Oh well, it was the same for everyone.
There was a young man who had been running at my speed for the whole event – either just in front or just behind.  Going up the drive he tucked in behind me.  As we got to the end of the drive with probably only about 1/4 mile to go he made his move.  I wasn't having that.  He did get ahead of me, but there was a bend and I took it better than him and ended up in front.  I just went for it then and amid lots of shouting from runners I knew I got in ahead of him. 
It was a good run and I enjoyed it.  There are another 5 events in the series spread over the summer.