Jude Glynn reports: It was a beautiful sunny September morning as I headed off to Lichfield, the sort of morning that makes you glad to be alive!
With the course described as hilly and the forecast unusually hot I wasn't expecting a PB though- which turned out to be just as well 🙂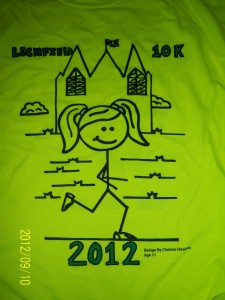 This was a popular extremely well organised event with a Family Fun Run happening at the same time and had attracted a broad spectrum of runners.I started off well but after only a couple of miles I was feeling the combined effect of the heat and the previous w/e's half marathon and my legs just didn't have it in them.
It all started to go downhill- or maybe the course started to go uphill! By the last mile I felt more like I was struggling to stay alive and it was more of a stagger than a sprint to the finish with the poor guy in front of me being violently sick – grim!
Alas my time was about two minutes slower than my PB and I clearly wasn't projecting an image of glowing fitness when another runner asked if I was okay as a member of his club had passed out!
I cheered up a bit when I saw I'd made it (just!) into the first of three rows of results and there was a Hi Viz Technical T shirt emblazened with a child's drawing (possibly the most garish addition to my wardrobe since we left the 80's behind!), banana and bottle of water as reward for our efforts 🙂 Overall a good event , nice- if challenging course -and PB's were had by some with higher fitness levels 🙂
The race was won by Steven Marriot (Tipton) in 32:47
Simon Goodwin was the first Bournville Harrier with 44:01, followed by Graeme Beavers 51:19, Jude Glynn, 51:40, and Robert Foster 61:38.