Jude Glynn reports: Three Bournville Harriers – Bradlee Todd, Terry Doherty and I – took part in this popular 10K race which had a field of over 2000.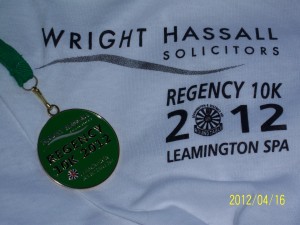 Well-organised and offering chip timing, a T-shirt and a medal for a mere £13, it proved a pleasant way to spend a sunny Sunday morning (although whilst I thought I'd arrived in plenty of time a shocking half hour toilet queue – the one flaw in the organising – meant the only warm up I had time for was sprinting to the start area!!).
This was my first experience of a chip timed race and with my estimated finishing time it took several minutes to shuffle towards the starting point (good news for those still queueing elsewhere?!) but once running it was a lovely course. I don't know how Bradlee and Terry found it but where I was it was pretty congested for the first few km round the golf course. However, having run in the Nationals the previous day, the excuse to ease up was not entirely unwelcome as my legs were feeling it a bit 🙂
The course was generally flat with plenty of encouraging marshalls and a water station at around the half way point (although I'm not convinced I've quite mastered the knack of drinking from a plastic cup whilst running!!).
Running onto Leamington's streets there was an enthusiastic cheering crowd which was fantastic – it certainly gave me a real lift-and then the course wound through scenic parks towards the finish. Quite near the end there were small children handing out jelly babies. It seemed churlish to refuse.
All in all a very friendly race with that Tshirt, a rather nice medal, a bottle of water and a KitKat at the end. I'd certainly recommend it – definitely beginner friendly.
Bradlee Todd finished first for Bournville in an impressive 38.39. Terry Doherty in 42.07 (PB I think) and Jude Glynn in 52.13 (PB by over 5 minutes)