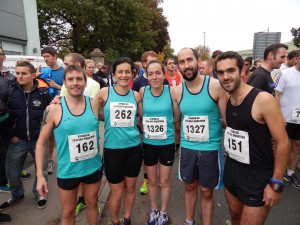 I've done two half-marathons in the past with neither being fun or rewarding (!) and I'd been talking about putting the whole "I hate half-marathons" to bed for some time now. I picked the Stroud half-marathon because it is  much smaller than the B'ham half (and much cheaper!) and only an hours drive away. I was pleasantly surprised to find out  there would also be some team-mates there on the day.
I would recommend this half-marathon, it's small (1100 runners this year) so very little weaving round people, but unless you're in the top 20 you will undoubtedly still have other runners around you throughout the race. It was very well marshalled and the support around the course was excellent, especially with it being in such a rural location. It also seemed to be quite an important local event with loads of people cheering the runners on from outside their houses and at all the major junctions.
The course was undulating, with one fairly big hill mile 6 to 7. This was quite energy sapping, especially with the head on wind but it was a nice course overall. I found the last few miles fairly tortuous, though I've been told this is normal, and the final uphill to the finish line made me want to cry! But I was over the moon to finish in just over 1:38, which knocks nearly 5 minutes off my pb.
Matt Cook and Caroline Harlan-Marks achieved fantastic pbs, and it was great to see Dean back to racing after a Summer plagued by injuries, and Chris H-M running another solid race consolidating his top Summer fitness levels.
The official race charity was Teckles Animal Sanctuary which I thought was wonderful, and I was very grateful to my parents, husband Paul and dog Mitzi for their support. It was lovely to see Jo and Hannah there supporting Dean and Matt also.
I don't think the half-marathon will ever be my favourite distance, but I'm glad to finally finish a half with a smile 🙂
Full results here
| | | | | | | | |
| --- | --- | --- | --- | --- | --- | --- | --- |
| Firstname | Lastname | Age cat | Chip Time | Age cat Gun Position | Overall Chip Position | Club | |
| Matt | Cook | MSEN | 01:15:19 | 7 | 7 | Bournville Harriers | PB! |
| Dean | Parker | M40 | 01:18:33 | 2 | 11 | Bournville Harriers | |
| Caroline | Harlan-Marks | F35 | 01:25:34 | 2 | 53 | Bournville Harriers | PB! |
| Chris | Harlan-Marks | MSEN | 01:33:19 | 61 | 146 | Bournville Harriers | |
| Laura | Leslie | FSEN | 01:38:03 | 9 | 233 | Bournville Harriers | PB! |