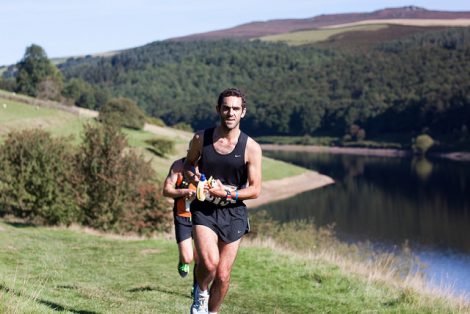 Matt Cook reports on an epic race: Sunday 18th September was a day of firsts – my first ever ultra-marathon, my first ever race victory – now suitably capped off with my first race report. The charity for which I work, Birmingham City Mission, is celebrating its 50th birthday. What better way to raise sponsorship than by running a 50 mile race?!
The Ladybower 50 was my chosen event – a scenic run around the three reservoirs of the Peak District's Derwent Valley (Ladybower, Derwent and Howden). The undulating 50.9 mile course is made up of one 5 mile lap followed by three 15 miles laps (so no navigation skills needed). The terrain is a mixture of trail, track and private road, making it fairly firm underfoot. After a good few months of training, my hope was to finish the race in less than 7 hours. I knew that 8 minute miles would do it but knowing that, later in the race, fatigue would set in my intention was to set off doing 7:45 minute miles.
After my usual pre-race breakfast, my Dad drove me from our weekend base to the reservoir for the 7am registration. The registration tent was one of the 3 'aid stations' situated around the course, spaced out at roughly 5 miles. Having collected my number, and with my Dad instructed on how many energy gels I was going to need each lap and bottle refilling duties, I kept myself relaxed with my standard dynamic stretching drills. I felt very much the ultra-novice as I looked round to see people will all kinds of pricey hydration packs strapped to their bodies. My approach was definitely the other end of the spectrum (£2.49 bottle from the local sports shop). In contrast to the hours of running that awaited us, the race briefing was over within a minute – 'Keep the water on your left. I'll know if you've taken a shortcut – you'll be wet.'
As the race marshal gave us a 5 second countdown, I moved my way to the front and we were off. Almost immediately there were just two of us leading the way. I quickly discovered that my new running partner, Gareth, had run the course before, had in fact won the previous two years and held the course record at 6 hours 19 minutes. Undeterred, I decided to stick with Gareth – reassured by his insistence that he wasn't in PB shape. Despite running about 30 seconds quicker per mile than I'd intended, I told myself (perhaps foolishly) that I'd benefit from running with someone, rather than doing the whole 50 miles on my own.
Gareth and I continued to talk all things running. It meant that the first 5 mile loop went by quickly, as did the first of the 15 mile loops. The views were stunning and the weather was beautiful. The morning mist had burnt off and the clear skies were an indication of how warm it was going to get. Parts of the course were shaded by trees, but there were a few stretches where there was no escape from the sun.
As we passed through the aid station at 20 miles (2hrs31), I was excited to see that my wife and son had arrived, along with my mum. Though to be honest, they hardly got a glance with my focus being on picking up the drinks bottle and energy gels that I needed. Soon after the 20 mile mark, I realised that, while Gareth was obviously a strong runner, his breathing seemed slightly heavier than mine. It still surprised me when at about 24 miles he began to drop off the pace. All of a sudden, I found myself running away from Gareth. I thought to myself that if he was struggling then I really needed to make the next few miles count and try to get away from him.
By the time I was back round to the aid station at 35 miles (4hrs24), my average pace had dropped ever so slightly, down to 7:27 per mile. I was unaware of it but, over the previous 11 miles, I had managed to open up a 6 minute lead. However, passing the aid station/registration tent at this point was rather demoralising. Half an hour after the 50 mile race had started, a 20 mile race set off. It meant that as I reached my 35 mile mark, a good number of 20 mile runners had finished their race and were standing at the side of the road complete with finishers t-shirts and medals – something that still seemed a long way off for me!
I passed straight through the aid station, grabbing a refilled bottle, more gels and a flapjack from my dad. Almost immediately I began to struggle. I could sense that I was becoming dehydrated so I started to drink more and ate the flapjack (my only solid food during the entire race). Feelings of light-headedness started to come and go. Catching my foot on a rock, I tripped forwards, managing to get my hands out to break my fall. My vision was increasingly blurred. When it got to the point where I felt I could pass out, about 37 miles, I realised I had to stop running. So I tried walking. I was determined to get to the end of this race even if it took me another 3 hours. Walking was only marginally more successful. I walked for about a minute or so, meandering left and right, still feeling as though I could go over at any moment. Finding myself at the top of a gentle hill, I told myself it was stupid to walk down a hill when I could run down it, so started to run again. Within 5 miles, I felt a whole lot better. Don't get me wrong – my legs were sore, but all the dizziness had gone. I'd refreshed my bottle and felt confident I could keep running to the end of the race. I was still in first place after all!
My pace continued to drop, down to an average of 7:52 per mile, but boosted by lots of small mercies (other people holding gates open, small sections of shade, words of encouragement) I was able to keep my legs moving. There was a point on the course, with about 5 miles of the lap to go, where the route takes a dogleg around an inlet to the reservoir. It allowed me to get a good view back across the water to see how far ahead I was. Looking back I estimated that Gareth and his pacer (allowed for the last 10 miles) were about 3 or 4 minutes behind me. Spurred on by the desire to give everything to win, I attempted to push hard for the next couple of miles and managed to pick up my pace a little. About half a mile from the finish line I saw my dad. I was relieved to hear that Gareth wasn't in sight. I crossed the finish line, after 50.9 miles, in 6hrs38. My first race victory! But my main emotion on breaking the tape was relief. Finally I could stop!
After catching my breath, I was handed my prizes (trophy, pair of shoes, free entry to next year's race!) and found a chair to slump into! Although it was another 6 hours before my stomach would hold down any fluid or food, my body had coped remarkably well. No particular pains. No rubbing or blisters on my feet. Just lots of tiredness. But it was all worth it! My first ultra, my first race victory and over £2,750 raised for Birmingham City Mission.
If you're looking for your first ultra, the Ladybower 50 is a good race to consider. There's no navigation skills needed. You pass by the aid tents regularly. It's fairly flat and fast. You can run it in your road shoes. All topped off by beautiful scenery. I may even be able to offer you a free place if I can't convince my wife to let me run again next year!