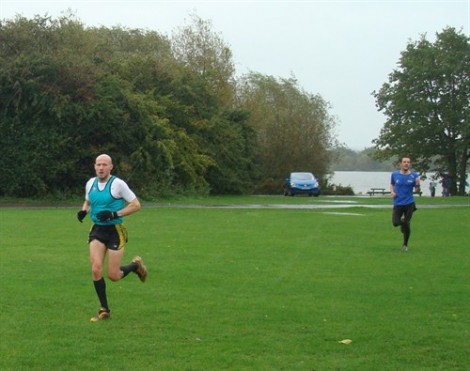 Sunday 3 October 2010 saw the inaugural running of the Kingsbury Water Park 10k and Andrew Halliday, the race winner, reports:
Billed as a multi-terrain race, I thought this would be good training ahead of the official x country opener in Leamington Spa on 30 Oct. As usual, I keep misinterpreting multi-terrain to mean there might actually be some road to run on and so put racing flats on – wrong choice yet again. This wasn't multi-terrain it was pure x country.
For those who raced in the Leafy 10k can testify, weather conditions were awful. Actually they were worse than awful. The course was 2 laps (5k each) mainly on waterlogged grass (which turned into a muddy swamp come lap 2) and, for a guy who loves flat road races and had road racing shoes on, was tough!
The race started off fast with 2 guys setting a crazy pace and whilst I wasn't prepared to keep up with them, I made sure the gap was manageable. After about 3k I felt pretty strong and so decided I'd keep them company. One guy fell away and then after 5k I decided to floor it for about half a mile and never looked back. I won by around 1 minute in the end.
It's pleasing to know that the warrior instinct can kick in on x country as well as the road, and the sprint finish was there if needed.
Results and race report are here.
P.S. – for those who don't know me I've only just joined the Harriers but hopefully I'll get to know you in time!