Jude Glyn reports: Competing with several other events this drew only a trio of teal,which was a shame as it's really rather a nice race.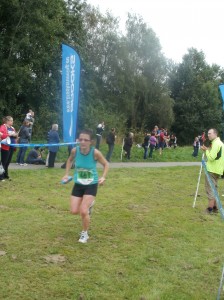 Having grown up in Kenilworth and with my parents still living there it was an opportunity for me to combine a run with a family visit and see my old home town in a new light 🙂 The race is put on by Kenilworth Runners and was a well organised 'out and back ' run through the Warwickshire countryside.
It starts from the local sports centre with free parking available in the town car parks or side streets- or in my case outside my parents' house! Number and chip collection was on the day but queues were short , supervised bag storage was on offer and there were proper toilets- again short queues -hurrah 🙂
Race directions were issued by someone who appeared to be standing on a recycling container then we were off! Predomimantly rural and decidedly undulating this was a challenging but pleasant course. There were well spaced and well organised water stations ,which started with cups-tricky 😉 then switched to bottles. By this stage it was feeling a bit warm so I experimented with pouring some water on the back of my neck- well I'd seen the proper athletes do it in the Olympics – seemed to work ok 🙂
Good amount of local support- especially considering how rural it was, including a little girl handing out jelly beans -nice-and a seemingly random cyclist shouting 'Come on Bournville!' (unless he was someone I'd failed to recognise!)plus great encouraging marshalls who were excellent at dealing with any traffic. Towards the end of the race I found myself thinking the course was rather like the Bournville Tour hill run stretched out for those familiar with that event.
Every runner was announced by name as they finished and I was very happy to get a new PB. My sister, who'd come along to support me was rather shocked that there were actually people finishing after me-ha ha! Our efforts were rewarded with a decent goody bag and a nice quality Hi Viz long sleeved running top (VERY long sleeved for some of us but there was a range of sizes!).
An impressive cake stall, post race massage and showers were available but I was heading back to my parents for Sunday lunch 🙂 (luckily I wasn't relying on wearing my race t shirt as it turned out:) )
The race was won by Matthew Chataway with 1:13.33 with Kenilworth's Richard Simkiss in hot pursuit.
Ed Hartley was first MV55 with 1:26:27
Stuart Mugridge had a PB with 1:37:17
Jude Glynn (me!) also had a PB with 1:53:48 (and there were hundreds after me:) ) so a good morning out for the Trio of Teal!