From Kathryn Holliday: Hi guys, I thought I would update you on my travels in New Zealand. I have now been here 3 months.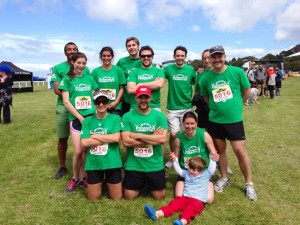 I am working in a town called Palmerston North, 'Palmy'. I am working lots of shifts but every weekend I get free I go exploring.  I try to fit in some running if I have a spare evening. The town has a lovely river run with views of the mountains in the distance.
I overheard there was a hospital team running around a mountain, I investigated further and managed to join the team. It was a 150km relay around Mount Taranaki. We split the run into legs. The first leg starting at 2am in the morning! My first leg was at 5.30am. We drove around the run in 3 cars picking up runners and dropping them off. The atmosphere was amazing.
At first it was pitch black and then the sun rose around the mountain, an amazing sight. By the time I ran the sun was out and I had the view of the mountain in the distance.  The awesome support from the other team members driving past was much needed. I managed to overtake quite a few teams along the way, improving our position.  Towards the end legs people were getting a bit weary.
We grouped together and ran with our team mates along the course, encouraging them up the steep hills. We finished a respectable 19th out of 57 teams. We finished the day by jumping into the refreshing sea. The race was very well organised with bags of goodies including moisturiser/deodrants/chocolate/cereal bars and Tuna!
There were drink stations at the end of every run and a free breakfast on one of the stops. I thoroughly enjoyed the run and I am organising a team for a similar event around Lake Taupo in the new year. Hopefully this will give me something to train towards.
I hope the x-country season is going well.