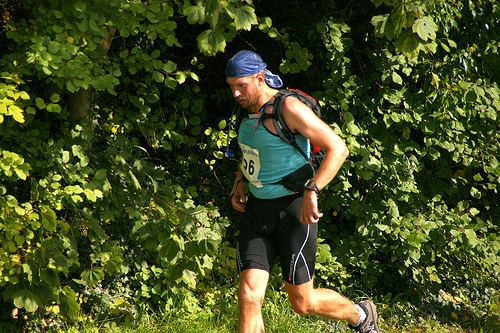 Lesley Proctor reports on the annual JW Ultra:
"How can we fit in our long run (training for Dublin marathon in case you hadn't heard) as well as taking part in the JW Ultra?" I pondered. "Easy!" replied Maria. "We just run two legs of the JW Ultra and that saves us having to think of a 21 mile route too!!"
We ran this (excuse the punn) past Sharon and she agreed. So we had found the perfect solution and that's exactly what we did. We set about finding ourselves a second team member each, who was willing to run the final leg! Our thanks go to Phil and Kelley for agreeing to this.
We arrived at the Seven Meadows car park (thanks for the lift Rachel) on a gloriously sunny Saturday morning along with the ultra runner 30 milers and the relay team 10 milers. We gathered outside the carriage cafe to listen to Mark's safety advice and final instructions and then we were off!
The fist two and a half miles were trails, tracks,woods,up and down steps and finally onto the canal towpath. The canal itself was really busy with barges passing almost constantly some people offering support others obviously far too chilled to even bother! Barges were queueing at the many locks along the route (don't believe anyone who says canal runs are flat) and in places the scenary was truly beautiful.
The aquaduct makes for an interesting section too. We made it to the Navigation pub comfortably, had a quick swig of, water accepted encouraging support and continued on to the secong leg! This was a new stretch of canal to both of us which meant everything we encountered was a surprise, especially the extremely long and wide muddy section that you simply had to run through or fall over in if your name is
Keith!
I was feeling strong, got into my groove and thoroughly enjoyed the rest of my run. So much so that we carried on passed the Bluebell Cider House change over to make our mileage up to 21 miles. We both
wished it had been our marathon day as we both had another 5.2 miles in our legs, not 10 though, so hats off to the ultra runners. We went back to Bournville Station where we received our goodie bags and were able
to support our team members and other competitors home. Lots of people then went back to Rowheath for the prize giving ceremony and many warm and emotional aknowledgements.
A thoroughtly enjoyable day! Who knows, next year we may consider the full 30! Watch this space!