Simon Newman Reports: I thought I would try something a little different than just running so I decided to enter a Triathlon, The ISOMAN in Reddich at Arrow Valley.
I entered the quarter distance which is a 1.75-mile open water swim followed by a 15.3-mile cycle then a 6.55 mile run.
Suz had entered the same as me at first but then changed her mind and went for the Duathlon which is a cycle and a run, there was also Lesley Proctor and Maria Wilkes who had entered the solo run.
The open water swimming is all new to me, I went swimming on Saturday mornings before parkrun and a few Wednesday evenings after work at a few different lakes, Suz joined me a few times and Taz and Tony came to watch, well laugh actually but the support was great.
I went to the briefing the night before, stood in the queue to get my bag and pay for my day licence then they stamped the number 218 on my leg and arm, this Triathlon is now real! It's actually going to happen there's no going back!
I listened to the rules about no drafting on the bikes and how much energy the swimming takes out of you so they advise you to stop after each lap and have a drink and something to eat if you want.
So…. it's now Saturday morning, Triathlon day! I arrived with plenty of time and watched Sharon and a few others run the parkrun before going off to rack my bike and get my wetsuit on.
My Mom and Dad came to watch probably because they knew I was a bit nervous about the swim, Thanks Mom  there was also Pete, Phil, Colin, Rachel, Scott, Taz, Rich, Lesley and Maria. Thanks for the support guys I really did appreciate it.
10:30am I'm in the water!! With another 60 swimmers all wearing the same orange cap, the gun went and it was like someone had let lose a pack of wild Piranha's.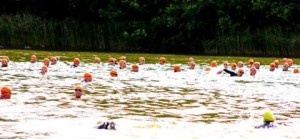 Arms and legs flying everywhere, people screaming for help and shouting save me! Well it seemed like that at the time. I needed to escape into my own space, I finally got into my rhythm calmed down and focused on reaching the first buoy, the time was going pretty quick and after the first lap I stopped and waved to my mom and dad and had a quick drink before setting off for the second.
Finally I finished the swim in 1h 8 mins, I got out the water a little wobbly and had a slow jog with Sharon and Pete up to the bike where I spent maybe a little too long getting my wetsuit off but hey this was my day and I wanted to enjoy it!
On the bike and the miles were going pretty quick, it was a hilly out and back course around the countryside of Studley I got to about mile 11 and I saw Suz where we managed to give each other an encouraging wave to each other. I finished the Cycle ride in 55 mins, but because I took 9m:30s on the transition they added the 1min 30 seconds onto my cycle time. (only had a window of 8 mins)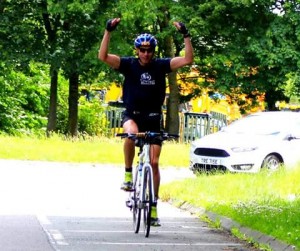 I had to jump off my bike at the timing mat and push the bike to where it was racked otherwise you risk a penalty, I did that and had a window of 5 mins to get ready for my run, I was pretty much ready so after a quick drink and a gel I was off.
I was feeling pretty good with no signs of the jelly legs people were warning me of, the run was the best part for me as I started overtaking the cyclists who went past me earlier I got chatting to one of the blokes who was running the half marathon as he was doing the next distance up and while running I kind of wished I was running further myself as the whole day had been a fantastic experience which I didn't want to end!
If anyone is thinking about trying a triathlon give it ago.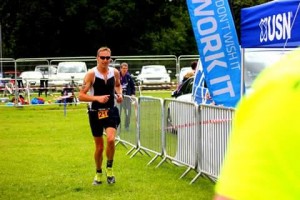 Results:
Quarter Isoman
Simon Newman – 19th Overall
1.75mile swim = 01:08:38
(Trans 1 = 9:41.2)
15.7 mile cycle = 0:56:04
(Trans 2 = 3:07.6)
6.55mile run = 45:16
Total = 03:02:42
Duathlon
Suz West
15.7 mile cycle = 01:03:42
(Trans 1 = 1:59)
6.55 mile run = 52:06
Total = 01:57:23
Newton Quarter Run 6.55m
Maria Wilkes = 59:03
Lesley Proctor = 01:01:50