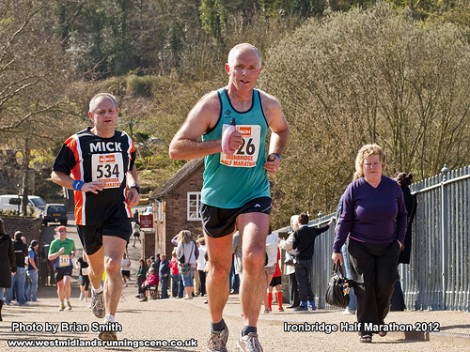 Stephen Hopkins reports: After the good weather in the preceding week, the day before race day was somewhat cooler and wet so i wasn't expecting what turned out to be a lovely day,ideal for running.

The race itself starts and finishes in Telford town park right next to the ice rink. The race route takes a short route off road around the outskirts of Telford before worming its way down to Ironbridge Gorge where you cross a bridge over the river Severn, then its a couple of miles through a mainly wooded section before you are fooled as the route takes you about half a mile past the famous Ironbridge before a u-turn and and an eventual crossing which was lined with people cheering us on.
Then a left turn which followed the Severn for half a mile before a right turn and the start of a steep climb back out of the Gorge lasting a mile or so before taking us on to mainly disused railway paths and trail sections before finishing back in the park. The route had actually been reversed from my last time here [ 7 or 8 years ago] but to be honest it doesn't make it easier. It still remains for the most part undulating save for that one awful hill at eight miles.
There were 6 BVHrs running including Stuart Pearson who did 1.24 to finish 12th overall.
It's a well organised and well marshalled run with where ever possible good support.I recommend Ironbridge not only for the race but as a good place for a day out with, of course the obligatory pint in one of the pubs overlooking the river.