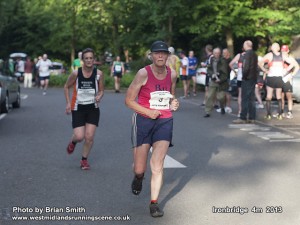 Lesley Pymm reports:  Another Wednesday and another trip along the M6 & M54 for the 4th event in the Telford AC Sexarathon.  We got there in good time and were able to relax in the historic surroundings before returning to the car park to get sorted before the race.  The plan was to warm up well before the run, but I made the mistake of putting the Andy Murray 1/4 final on the radio.  It was so gripping that I could not leave the car!  Fortunately he won at about 7.20, so I was able to get out and do a little jog round before the race started at 7.30.  Not my best preparation for a run, but I was on a bit of a high when it started.
 The run started by the famous iron bridge and headed out through the car park and onto the Silkin Way.  During the briefing we were warned about a narrow crossing on the wooden bridge and, more interesting, the flood when we came back onto the trail after crossing the river by the bridge.
I got off to a good start and was comfortable as I ran along the trail.  There was a short section of road and then we ran down by the tile museum and around an interesting section by the old canal.  Another short road section and onto the wooden bridge.  Back onto the Silkin Way, still going well.  Then there was the flood – which is probably a bit of an exaggeration but enough to slow some of the others down.  Back then onto the trail that we had come out on.  People from Wrekin were shouting for the woman behind me and telling her she could get another place up – not if I have anything to do with it!  I managed to hold on and beat her.
I'm not sure about these vests from the Tour – I think my face matched the colour of the vest by the end.  I was really pleased with my run.  It was an odd distance so time is a bit meaningless, but I beat people that usually beat me and was 1st W60 – so thanks Andy, I think the adrenalin was flowing!