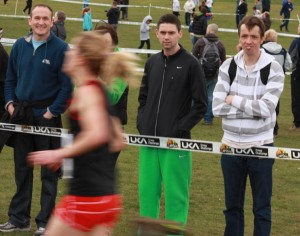 Linda Howell reports: Saturday, 10th March saw our home training ground of Cofton Park transformed to host the Inter Counties Cross Country races, complete with race commentary box and sky sports cameras.
Gary Blackman and myself had been selected for the Warwickshire squad and as such would be swapping our trusty teal vests for the blue and green of the county.
Having found the Warwickshire tent, my parents and a number of BvH supporters, including Steve James armed with a camera, I warmed up with fellow Warwickshire team mate Clare Grice before making our way through the tent to find our pen and 7 other team members.
We then waited, nervously, agreeing that this was the worst bit and we'd be fine once we got going, for the off.
The course starts up a long, unforgiving incline. This sort of worked for me as I don't have a good sprint start and the incline meant I could use a bit of strength to pull myself through the field as their sprints subsided.
As Marianne reported last year, the course avoids the steep hill at the side of the trees, but more than makes up for this by finding every other hill in the park and sending you up it, repeatedly, and in some cases looping you round to take in an extra bit of hill.
For the senior women one small and two large laps brings the distance to 8km. I worked hard to focus on the Warwickshire vests ahead of me and try to pull myself onto them, my efforts were considerably helped by the numerous vocal supporters around the course. Thanks especially to Joe for telling me that the Warwickshire in front was struggling on the last lap, only for her to put a sprint on and overtake about 7 people – she must have heard him!! Also to Marianne for her "you know this hill, you love this hill", know yes, love, not so much, but it did make me smile ☺
The finish is a bit cruel in that the course sends you half way up the long incline to turn around a tree and run back down to the finish line. At least it makes the final 200 metres down hill and I managed to find an extra bit of something to sprint my heart out and hold off the Kent lady on my shoulder (thanks to whoever shouted "she's on your shoulder Warwicks", it really helped spur me on).
I didn't count for the team, coming in 7th from the county, but as Brian said, I did hold others off and had a much better race than last year improving my time on the same course by 2:30 to come 143rd from 248 finishers. Warwickshire finished 15th in the ladies race.
Gary had a great run considering his cold and recent efforts in the police cross country races to finish 136th of 278 runners and helping Warwickshire to finish 8th in the mens race.
For me the season is over, but Gary continues on to represent the police in the Europeans. It's a bit of a way to go to physically support, but sure all the BvH XC lads and ladies will be sending supportive vibes ☺